Damian Lillard: An Under the Radar Star Leading the Trail Blazers
Published 02/03/2020, 12:18 PM EST
By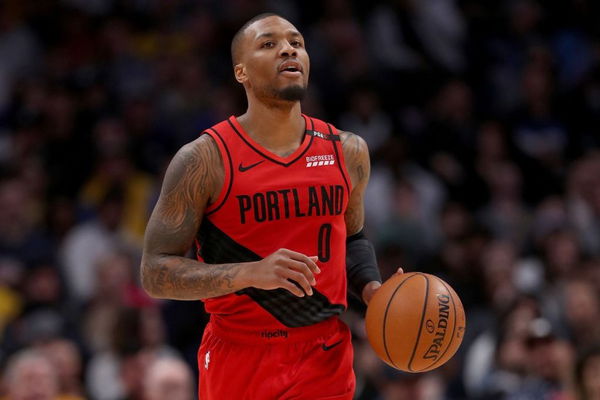 Damian Lillard is currently the most devastating scorer over the last six games. Not James Harden. In the last six games, he's averaged 48.8 points, 7.2 rebounds and 10.2 assists a game. He's shooting an incredibly efficient 55% from the field. He's been lethal from three-point, connecting 57% of his three-point attempts.
ADVERTISEMENT
Article continues below this ad
The 293 points he's scored in these six games place him joint third with Kobe Bryant. Only Harden (twice) has scored more points over a six-game span than anyone else. While Lillard has scored, he's also been providing for his teammates. No other player has averaged 10 assists a game, whilst nearly scoring 50 over six games.
Lillard has now scored 50 or more points nine times in his career. He now is in the top 10 for 50+ point games in NBA history.
ADVERTISEMENT
Article continues below this ad
Damian Lillard as an Under the Radar Star
Despite being a five-time All-Star and named to four All-NBA teams, Damian Lillard does not command the same popularity as some of the more well-known guards in the league.
In spite of being out of the limelight, he's led his Portland Trail Blazer teams well. Since 2013-14 season, the Trail Blazers have always made the playoffs, despite being unfancied to do so in some seasons.
This season Lilliard is having the best season of his career. He's averaging 29.8 points, 4.4 rebounds and 7.9 assists a game. Both points and assists are career highs. He's the third-highest scorer in the league in points per game. Lillard is shooting 46% from the field and 39% from 3-point, again career highs.
Lillard's Historic Six-Game Streak
Lillard's six-game hot streak started on January 20th against the Golden State Warriors. He dropped a franchise and career-high 61 points. During that span, he's led the team to a 5-1 record, with a sole defeat against the Dallas Mavericks. Portland have beaten the Los Angeles Lakers, Utah Jazz, Houston Rockets, Indiana Pacers and Golden State Warriors.
In the game against the Rockets, he scored the first triple-double of his career. Incredibly, he's dropped a combined 99 points against the Lakers and Jazz. Both teams are known for their strong defensive prowess but were unable to contain him. It took place in less than 24 hours.
ADVERTISEMENT
Article continues below this ad
However, he's set up his teammates. It's the first time any player has averaged nearly 50 points and dished out 10 assists a game, over a six-game span.
Lillard's performances have not gone unnoticed. Teammate and future Hall of Famer, Carmelo Anthony has admired the dominance shown. Lillard himself is not afraid of the challenge laid down by opposing teams.
"I'm just making the plays that I see. When I see them being aggressive, I'm not backing out."
ADVERTISEMENT
Article continues below this ad
The recent run of form saw the Trail Blazers reach a 23-27 record. That's good enough for 9th in the Western Conference, and are a couple of games behind the Memphis Grizzlies for the 8th and final playoff spot in the Western Conference.
Once again, Damian Lillard is leading the Trail Blazers into an unlikely playoff spot. If he maintains his scoring and ball-handling, he could lead the Trail Blazers back into the playoffs for the seventh straight season.