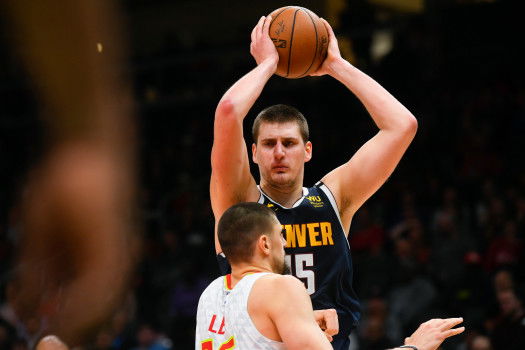 Nikola Jokic is having a really strong season with Denver Nuggets, but it doesn't seem to be a concern for many out there. Nuggets head coach Mike Malone commented:
"He's not going to bed at night wondering why no one's not talking about him, He doesn't care. He's reading his book on horses, we're winning games and he's happy. If he's happy, I'm happy."

This should not come in as a surprise as Denver Nuggets are leading the front pack for Western Conference. They are 2nd in Western Conference in NBA and as per our, Power Rankings put them as a strong contender.
The Nuggets are strong playoff contenders, boasting a 38-18 record. However, they face a tough fight to hold on to the number two seed.
Is Nikola Jokic a Sleeping Tiger in this year's NBA?
The way Nikola Jokic is leading his team in front around this year proves his worth and commitments towards a good playoffs run. He is working hard, for one thing,  an NBA Championship. He leads his team in Points, Rebounds, and Assists this season.
Generally, fine-tuned centres are known for strong inside scoring and hard rebounds. It's rare to find Center leading his team in assists.
Averaging 20.8 points per game with 2.4 offensive rebounds per game makes him a strong prospect for the MVP race this season. Yet nobody seems to bother to build a strong culture around him. But does it seem to worry much? Well as his coach says not much to be fair.
Every NBA player has a strong home game, but Jokic has something else in mind. He has more points per game away from home. He's dominating the Central Divison with 25 points per game for his team making the favourite spots to play against Bulls, Pacers, Cavaliers, and Pistons.
Coming into the year 2020 he's producing 24.3 points, 10.9 rebounds, and 7.8 assists. The stats don't deserve to stay under the rug. Jokic is well aware yet keeping himself silent and allowing his game to speak for itself.
Is he the next superstar of the NBA in making? We cant wait to watch his rise.