NBA Draft 2021: Auburn Tigers' Sharife Cooper Living Up to Chris Paul Comparisons
Published 01/27/2021, 3:00 PM EST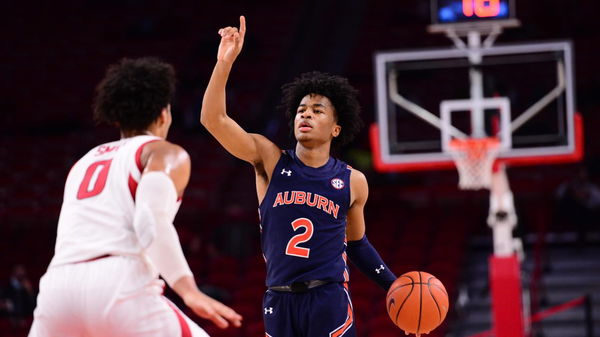 ---
---
As the NBA Draft 2021 chatter heats up, one of the newest players creating a buzz is Auburn's Sharife Cooper. After dealing with eligibility issues, Cooper missed the first half of the season. Standing at just 6'1″ tall, he is usually the smallest player on the court. But that doesn't stop him from providing the biggest impact.
ADVERTISEMENT
Article continues below this ad
He scored 26 points and had nine assists on his debut against Alabama. Despite their loss, Cooper showed right from Day 1 that he can provide elite scoring and elite playmaking. After six games, he is currently averaging 22.3 points and 8.7 assists per game.
ADVERTISEMENT
Article continues below this ad
In the 11 games they played before him, the Tigers averaged 74 points per game. But in the six games that he has played, they averaged 86 points per game. A freshman entering a season midway and completely transforming the offense- who would've thought?
NBA Draft 2021: Will Sharife Cooper live up to the hype?
The biggest concern for Cooper is his size. There are small guards bossing the league like Chris Paul and Kemba Walker- can Cooper do something similar?
In the few games he has played so far, he has not let his height be a deterrent for his performances. He may fall short on size, but he makes up for it with his speed. He dances around bigger defenders and can either finish or carve out chances. Cooper's game sense is beyond his years, and his ability to see plays before they develop allows him to be an incredible distributer.
ADVERTISEMENT
Article continues below this ad
He has already drawn comparisons to Chris Paul, and rightly so. Nobody reads the game better than Paul, and Cooper is following in his footsteps. This will be one of the most important qualities for him when he enters the NBA.
As it stands, he may be a defensive liability in the league, but he will gradually develop that as well. The other primary concern is his inconsistent jump shot. But he is a freshman who has joined midway through the season, so it could improve by the end of the season.
Just based on his offensive end product, Cooper already looks like a high lottery pick. Any team that drafts him is getting an upcoming floor general and an excellent shot creator. He is one of the most exciting prospects for the 2021 NBA Draft, and it will be interesting to see where he lands.
ADVERTISEMENT
Article continues below this ad