Russell Westbrook has gone about his basketball life by doing more or less the same things in more or less the same way. He has his way of doing things on and off the court and he sticks to them no matter what happens. What made him an MVP was the way he met challenges with defiance, insisting upon his methods until they pushed through.
This season Westbrook chose to double down on driving angles instead of shooting 3's in his worst long-range shooting season yet. Westbrook's adjustment came from starting possessions physically closer to the basket, turning drives into short bursts.
Evolution of Russell Westbrook
He understands what Houston's offence will allow, Westbrook, is both getting to the rim and finishing with more success. Rockets took a huge gamble trading away their starting centre and committing to playing undersized. Right now though the gamble seems worthwhile as it helps Rockets amplify their two stars.
"Before, defences were just leaving the big man right at the lip of the rim," D'Antoni said. "Now, they have a hard time doing that. So that's way different. They double-team James, but when they double-team now, Russell has a free run to the basket."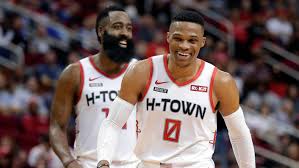 Despite all the success in the paint, Westbrook's mid-range game was crucial in getting the best of Gobert. Russell Westbrook has begun taking a few 3s as circumstances demand. It's more about moderation than outright avoidance. There is now an outside chance that Harden (35.2) and Westbrook (27.2) could become just the second pair of teammates in history to average 30 points apiece.
Who we are, as people, is always tied to a sense of place. Westbrook finally chose to scale back an empty part of his game, reorienting instead to what the Rockets needed. The proof of evolution is right there, in a meaningful show of restraint