WATCH: Draymond Green Lands in Trouble Due to Antics With Referee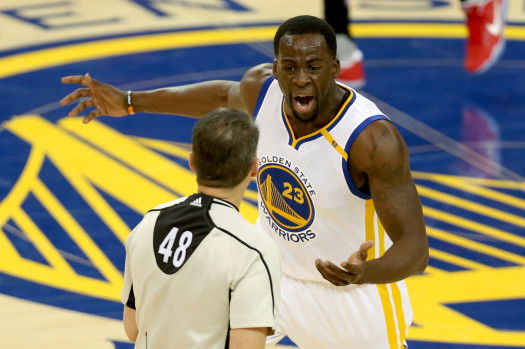 The Golden State Warriors had a rather unfortunate start to their game against the Lakers Thursday night. Center Draymond Green lasted on-court for merely 10 minutes. He was ejected in the second quarter.
Draymond Green: Why so angry?
Draymond Green was ejected from Thursday's 116-86 loss to the Los Angeles Lakers after picking up two technical fouls in the second quarter. He now has 14 technicals on the season, meaning two more will earn him an automatic one-game suspension.
Green was whistled for a foul under the basket with 5 minutes, 56 seconds left in the second quarter. He got his first technical after exchanging a few words with official Tyler Ford.
A few seconds later, Draymond hit the floor after crashing against the screen made by Lakers center Dwight Howard. An enraged Draymond Green quickly got up to his feet and yelled at referee Marat Kogut. 'The Draymond Green rant' was further unleashed on referee Tyler Ford. This warranted another technical foul leading to his automatic ejection. Infuriated as ever, Green stomped toward the home locker room.
The Draymond Green Rant: After effects
After the game ended, Warriors coach Steve Kerr acknowledged being frustrated that Green let his emotions get the better of him.
"We needed him in the second half," Kerr said. "We missed him out there."
Green, who missed the previous two games because of a pelvic contusion, had 2 points, 4 assists and 4 fouls in 10 minutes before being ejected.
Warriors eventually lost their eighth game in a row after succumbing 86-116 to the Lakers. Despite the game being a close affair for much of the game, a massive 40-17 win for Lakers in Q3, proved to be the eventual difference-maker.
Los  Angeles Lakers star player Lebron James apparently found Green's rants amusing. While green exchanged words with the referees, King James was seen having a good laugh as he witnessed the incidence.
LeBron laughing at Draymond's ejection 😂😂😂 pic.twitter.com/tRoqdTKal6

— NBA Central (@TheNBACentral) February 28, 2020
Get notified about breaking news and watch highlights on the go; join the Arena on NBA Hoops