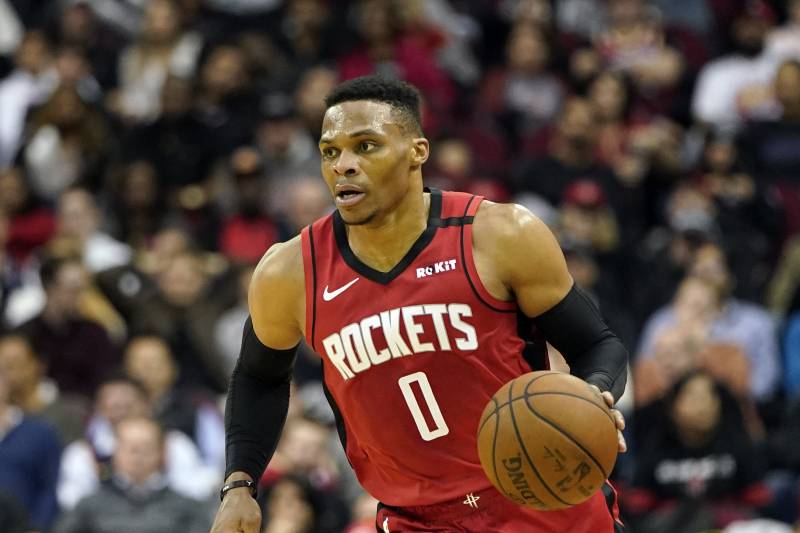 The Housten Rockets lost 113-114 to the Utah Jazz in their most recent game. However, Russell Westbrook of the Rockets definitely won his fans' hearts.
Russell Westbrook: NBA Run
He is a nine-time NBA All-Star and earned the NBA Most Valuable Player Award in the 2016–17 season. He is also an eight-time All-NBA Team member, led the league in scoring in 2014–15 and 2016–17, and won back-to-back NBA All-Star Game Most Valuable Player awards in 2015 and 2016.
In 2017, the year he won the league MVP award, Westbrook became one of two players in NBA history to average a triple-double for a season, along with Oscar Robertson in 1962. He set a record for the most triple-doubles in a season, with 42. He went on to average a triple-double the following two seasons. Also, he lead the league in assists and become the first player to lead the league in points and assists in multiple seasons. He is currently second all-time in career triple-doubles in NBA history.
 Westbrook Playing His Part Well
In one of the possessions in the game yesterday, Westbrook faced up with Utah Jazz defensive star Rudy Gobert. In a matchup between the two, it was the former MVP who won over the two-time Defensive Player of the Year awardee. For Westbrook, shot-blocker or not, he attacks them all.
The Rockets played some of their best basketball of the season for 47 minutes and 58 seconds on Sunday. Russell Westbrook scored 39 points, James Harden finished with a triple-double, and P.J. Tucker and Robert Covington each hit clutch threes in the final minute.
The Rockets fell one point short of defeating Utah on Sunday, but Russell Westbrook certainly did his part. The nine-time All-Star led all scorers with 39 points on 18-33 shooting, converting 14 shots inside the restricted area. Westbrook's opponent made Sunday's performance all the more impressive.
Utah took the floor on Sunday led by Rudy Gobert, a 7'1″ behemoth and two-time Defensive Player of the Year. Westbrook appeared unconcerned by Gobert's presence. He buried his head into Gobert's chest for baskets on numerous drives at the tin, neutralizing The Stifle Tower's immense length. Westbrook drove at Gobert on Houston's final possession of the game as well, worming his way into the lane before whipping a pass to Tucker for the go-ahead three. Westbrook is fearless going to the rim. It doesn't matter which 7-footer is guarding the tin.
Russell Westbrook with the absolute hammer on Rudy Gobert. pic.twitter.com/kvKLB49Aed

— Michael Shapiro (@mshap2) February 10, 2020
"I went right through [Gobert's] chest, put that shit in the basket," Westbrook said postgame. "Same as everybody else. He ain't no different, just happened to be a little taller."
Russ attacks every opponent the same way 😤

(via @SalmanAliNBA) pic.twitter.com/T3kq7XJzv9

— SportsCenter (@SportsCenter) February 10, 2020