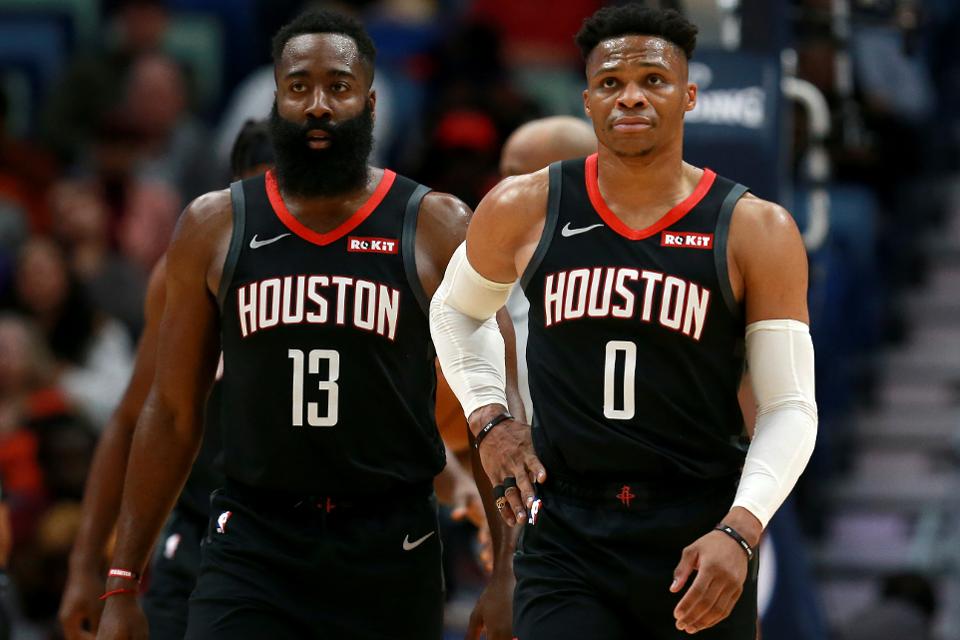 Houston Rockets' point guard Russell Westbrook is in his 12th NBA season and is playing some of the best ball of his career. James Harden, an MVP much like Westbrook, is also on a roll. However, it seems as though the Universe wants only one of the two stars to shine at a time.
Russell Westbrook: Stats
After 11 seasons with the Oklahoma City Thunder, Westbrook is in his first year with the Rockets. Paired with scoring machine James Harden, the team is a strong 33–19 despite a roster that ranks among the most shallow in terms of overall depth in the league. They have also taken to playing almost exclusively with a small-ball rotation that rarely has any players on the floor taller than 6'7".
In 36 minutes per game, Westbrook has averaged 26.7 points, 8 rebounds and 7.3 assists. He is also shooting 45.8% from the field, which would represent a career-high if it stands over the course of the season. On the negative side, he is hitting on a paltry 23.7% of his three-point shots, despite taking 4.1 per contest. He has never been a strong perimeter shooter, connecting on just 30.4% for his career. However, that ineffectiveness hasn't stopped him from being an unapologetic chucker during his career.
The numbers suggest that the Rockets are strongly impacted by the shooting decisions Westbrook makes. They are 11–3 when he attempts two or fewer three-point shots. However, they are a lethargic 9–10 when he hoists up five or more from deep.
James Harden: Stats
From Oct. 30 to Dec. 9, James Harden scored an incredible 39.3 points a game, averaged his usual 45% from the field. Also, 36.5% from three to go along with 7.3 assists and 6.3 rebounds. Westbrook on the other hand, having played two fewer games than Harden over that span due to rest, averaged only 22.1 points on 41% from the field and 21% from three, but still grabbed 7.3 rebounds a game and dished out 7.1 assists.
If that wasn't enough of an MVP performance from Harden, from Dec. 11 to Jan. 3, The Beard still put up 39.3 points a game, but he did it on a mind-melting 52.7% from the field and 49.6% from deep while shooting 12.8 three-pointers a game and taking only 8.1 free-throws a game.
Westbrook and Harden: Alternating in the Limelight.
During that stint, Westbrook averaged 27.6 points a game on 43.6% shooting from the field to go along with 7.6 rebounds a game and 6 assists. In the 10 games that both former MVPs played during that span, the Rockets were 9-1.
Things then flipped for the worse. It looked like Westbrook was finally getting into his rhythm. He was ready to take the leap, Harden then fell into the abyss.
After four days of rest, Harden and the gang returned to action, just for him to average only (only?) 27.3 points a game on a wretched 33% from the field and 22% from three over his previous nine games played.
Westbrook, on the other hand, has made this team all his. Over his past eight games, he's averaged 33.4 points a game, 8.9 assists, and 8.5 rebounds on a stellar 53.8% shooting from the field. He has nabbed two triple-doubles along the way. This also includes a 16-rebound game wherein coach Mike D'Antoni mentioned beforehand that the Rockets were 30th in boards, to which Westbrook simply said, "I'll just go get them."
James Harden and Russell Westbrook finally teamed up together once again on the Rockets, far removed from the young, promising duo they were in Oklahoma City, now proven generational players and each at least 11 years into their career. Even with all that experience between the two, they're still suffering from growing pains.
A little over three months into the NBA season, we're still waiting for both players to play at an MVP level at the same time.