Jimmy Butler is Full of Praise for Lebron James: "Whatever, Whenever, He's There!"
Published 01/13/2020, 9:29 PM EST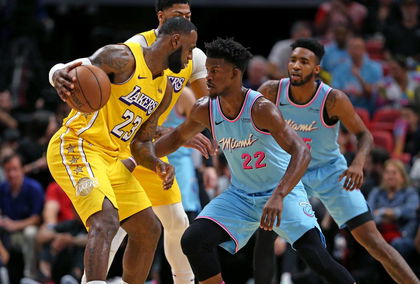 ---
---
Entering Year 17, LeBron James is still going strong. Even one of the toughest competitors today, Jimmy Butler has acknowledged the James' tenacity. Butler recently named James as one of the toughest players he has guarded in his NBA career.
ADVERTISEMENT
Article continues below this ad
Entering his 17th season, LeBron James is averaging All-NBA worthy numbers. He's averaging 25.4 points, 8 Rebounds, 10.7 assists per game. Scoring is marginally lower than his career average. However, his rebounding and assists are career highs. He's also averaging one of his best seasons from 3-point shooting at 35%.  Impressive for any player let alone one entering his 17th season in the league.
Jimmy Butler elaborating on what makes LeBron James an all-round great
ADVERTISEMENT
Article continues below this ad
In an article published on The Players Tribune, Butler lavished praise on James' game as one of the five toughest players he's guarded. According to the latter, James possesses athleticism and vision and explosiveness not seen in any NBA player.
The problem for defenders is James' mix of size and athleticism. He can out-muscle smaller and quicker defenders tasked to guard him. He can move past larger defenders using his speed. Additionally, he can lure defenders into a double-team which frees up a teammate for an open shot.
When asked to elaborate on what makes James a difficult task to guard,
He's still the best all-around player in the league. He literally does everything well. He can shoot. Pass. Attack the rim. Defend. You need a bucket? LeBron's got you. You need a rebound, a steal or a block? He's got you. Whatever you need, whenever you need it.
Bron's got you.
It's quite remarkable he possess this level of elite play in his 17th season. However, it's a known that LeBron James does spend a lot on maintaining his body. It's estimated he spends near $1.5 million on keeping his body in peak physical condition. It's helped him perform consistently at elite levels even after nearly 1,500 regular and post-season games.
James in his 17th season and the goals of the Lakers
ADVERTISEMENT
Article continues below this ad
Despite the wear and tear on his body, James remains in prime condition. In year 17, he's averaging 35 minutes a game. That's nearly three-quarters of the game. With him and Anthony Davis leading the Lakers, they occupy the number one seed in the Western Conference.
With his debut season with the Lakers hampered by poor management and his first major injury, James is now in a contending team. The Lakers are a favourite for the title this season and are expected to be in the finals.
On a personal level, he's once again in contention to win the MVP. His numbers are certainly MVP worthy. If he were to win the award, he would become the league's oldest MVP winner at 36 when the award would be presented. He's also in line to win the Western Conference All-star vote. He leads the league in votes and will likely be chosen as a team captain for the 2020 All-star game.
ADVERTISEMENT
Article continues below this ad
Do you think LeBron James can scoop the MVP award and possibly lead the Lakers to their first title since 2010?