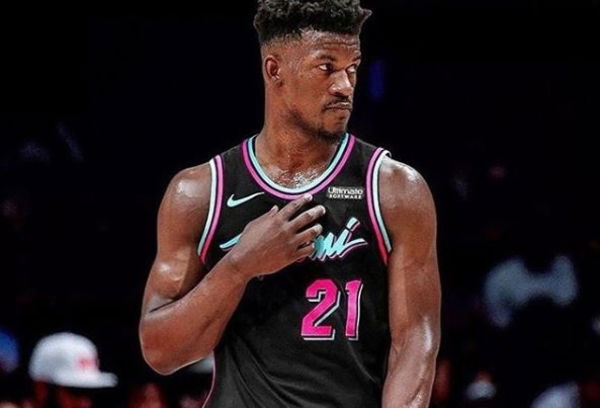 Miami Heat small forward Jimmy Butler became a five-time All-Star by working harder than everyone else. Butler isn't the fastest guy out there or a great shooter. He just plays and trains harder than most players.
Jimmy Butler on his Talent
Jimmy Butler is different 😤 https://t.co/GzEYgQMOh4 pic.twitter.com/caMuipzMdE

— Sports Illustrated (@SInow) February 28, 2020
The above statement could easily be a quote from Pat Riley. It's the sort of quote that the Heat might paint on the walls. After all, this is the organization infamous for regularly measuring players' body fat and cultivating an almost monastic belief in the virtues of conditioning. Riley has spent several decades telling the world he wants the Heat to be the "hardest-working, best-conditioned, most professional, unselfish, toughest, meanest, nastiest team in the NBA."
In that respect, it isn't the least bit surprising that Butler recognized kindred spirits when he began talking to Miami's front office this summer. "The way that they work, it welcomes me. It embraces me. Because to thrive here, you gotta have a crazy-ass work ethic."
The Chicago Bulls took a chance on Butler in the 2011 draft with the 30th pick and watched the Texas native grow from a defensive specialist into one of the best two-way players in the league in a short amount of time. The 2014-15 season was Butler's breakout year. The 6-foot-7 swingman averaged 20.0 points per game and won the NBA's Most Improved Player Award.
Butler is averaging 20.5 points, 6.8 rebounds and 6.2 assists per game on the season for the Heat. He's shooting 45.2% from the field, 24.6% from beyond the arc and 83.8% from the free-throw line.*
The Heat are 36-22 on the season. They will make the playoffs after missing it in 2018-19. It is in large part thanks to Butler's stellar play on both ends of the court.