Kyle Kuzma, Giannis Antetokounmpo and Other NBA Stars are Losing Their Mind on Tiktok During the Coronavirus Break
Published 04/02/2020, 5:14 PM EDT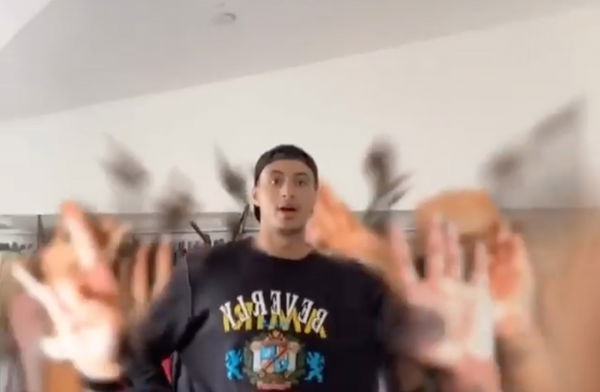 ---
---
It is common knowledge that social media is a big influence on this generation, but who knew that the world would one day rely on it so much. As the NBA community continues to hunt for glimpses of the league, players from the likes of Kyle Kuzma, Ja Morant, etc. to Shaquille O'Neal are bringing their A-game to TikTok.
ADVERTISEMENT
Article continues below this ad
 Kyle Kuzma is really bored in the house
(TikTok: @Kuz )
ADVERTISEMENT
Article continues below this ad
Los Angeles Lakers forward Kyle Kuzma joined the social media app TikTok just recently. Hence, almost all his posts are related to the Coronavirus and quarantine. Normally, one would react calmly to an NBA player posting TikTok videos about the situation. However, Kuzma's videos are really something.
One of Kuzma's videos is so funny, you might want to get yourself checked if you don't laugh for 10 minutes straight.
Yes Kuzma, we get it, you're bored.
Another one of Kuzma's TikToks includes one with a party filter that has hands moving as if they were those of people dancing at a party. The caption of this TikTok is "When you're trying to talk to a girl at a party but you walk into the circle on accident".
In the video, Kuzma pretends to walk into a circle which makes him dance ferociously.
Ja Morant has his own take on posts like those of Kyle Kuzma
(TikTok: @jmorant12)
Memphis Grizzlies 20-year-old point guard Ja Morant made headlines with his TikTok videos before all else. His first video was recreating his own introduction, NBA style.
Morant also included some dances with his fam gang. His latest post uses a filter, the same as Kuzma has used in this "When you're trying to talk to a girl at a party but you walk into the circle on accident" video. However, Morant used this filter in his own way; to party as if he's really there.
Fans completely bowled over Morant on TikTok as it reminded them of Kyrie Irving in the era of vines.
Giannis Antetokounmpo contrasting Kyle Kuzma
(TikTok: @giannis_an34 )
Unlike Kuzma, Milwaukee Bucks star Giannis Antetokounmpo is spending less time on social media and more with his family. He is also mixing the two sometimes. His recent TikToks are that of his long time girlfriend Mariah Riddlesprigger and their newborn baby boy.
One is of them swaying together with the baby while Giannis takes a mirror video. The other one is of him and Riddlesprigger answering couples questions with their eyes closed.
It is a challenge where couples are asked questions and they have to point towards whoever between them does what the question asks.
The veterans know how to work it
The former Laker Shaquille O'Neal ( @ShaqDieselONeal ) and the current Laker LeBron James both seem to be using TikTok to be closer to their family. Almost all their videos are either with the entire family or just with their children.
While Shaquille O'Neal has his own TikTok account, Lebron uses son Bronny James' account (@lebronnyjames) for his occasional appearances.
All of LeBron's videos have been features in his sons' videos. The first one is of the entire family dancing to a song. The caption he gave when he posted it on his Instagram account is "My GANG GANG heavy hitters!! 🤟🏾🤮Especially the smallest one!"
One can notice his youngest child really being involved in the video as she hits all the right beats, and she does it hard.
Another video is of the James gang standing one behind the other and emerging one by one as the family member in front of them does a little dance and steps aside. They all repeat the same sequence.
Shaquille O'Neal is a TikTok veteran too. With 2 Million followers, he is a TikTok influencer. He does advertisements, promotions of this party "Shaq's Fun House", and has a lot of random videos with his family.
Recently, he has made a few videos with his children, which depict the big Shaq's attempt at dancing like his kids. He seems to have difficulties following the steps at first but catches on quite fast.
ADVERTISEMENT
Article continues below this ad
ADVERTISEMENT
Article continues below this ad