Pau Gasol Reveals He Was Unhappy with His Trade to Lakers in 2008, Recalls First Meeting With Kobe Bryant on Instagram Live
Published 04/04/2020, 5:20 PM EDT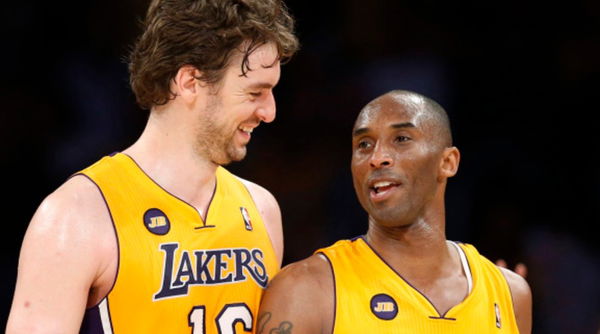 ---
---
Part of the legendary Los Angeles Lakers squad that won two back-to-back NBA Championships in 2008-09 and 2009-10, Pau Gasol made his Lakers debut in 2008 after being traded over from Memphis Grizzlies. Apart from taking two championships, Gasol, hailing from Barcelona, Spain, is a six time NBA All-Stars and four time All-NBA Team Selection. He also won the Rookie of the Year trophy in 2002 for Memphis, giving everyone a glimpse of what was to come from him. Recently, Gasol went live on Instagram and revealed how his family is coping with Coronavirus, his thoughts on Kobe Bryant, the trade to Lakers and more.
ADVERTISEMENT
Article continues below this ad
Pau Gasol on Being Traded to Lakers- "Bittersweet Feelings"
Having given an initial chance by Memphis in 2001, Gasol played for the team for 7 years straight. In 2008, he was traded to LA Lakers for four players and two first round picks. Initially, he was ecstatic. However, in the Instagram live session, he that he was sad about the trade, having given so much to his first team. For the years he was there, he worked hard to establish a legacy at Memphis. He took the team to their first ever playoffs. Memphis reached the playoffs, but only won a single game.
ADVERTISEMENT
Article continues below this ad
Losing again and again at Memphis frustrated Pau immensely. Despite it, he wasn't particularly excited to move to Lakers, though the team boasted of Kobe Bryant in the roaster. He labeled it a 'sour' feeling and something difficult to process. He wanted to leave the team before as well, but when it really happened, it took him by shock.
"Lets Win a Championship" – Kobe Bryant
Pau described his first meeting with Kobe Bryant, which happened at a hotel room at 1:30 AM in the night. He insisted that they talk the next day in the morning, but Kobe was persistent. Pau remembered Kobe setting the tone of the conversation. When talking about the future, the late legend simply said, "Let's Win a Championship".
His Thoughts on Coronavirus
Gasol took the opportunity to emphasize the danger of Coronavirus and how people should contain its spread. Considering the effects of the virus on Spain, it was incredible of him to use this opportunity to assert that everyone makes their health a priority. He further spoke of the importance of quarantine and how much China has improved from the situation. His teammates and family practicing self-isolation, and luckily none of them were tested positive for the virus.