Los Angeles Clippers power forward Paul George is injured yet again. It has been reported that the LA Clippers' Paul George suffered a left hamstring injury. This happened during the second quarter of Thursday's game vs the Celtics.
Paul George: Injury Effects
This is the same hamstring that he injured at two different times this season, with the second resulting in his sitting three-plus weeks in January. That means the injury could be serious and could see him out for a considerable time.
The Clippers announced George was out at halftime because of the same injury that cost him nine straight games in January and a total of 10 games.
"He just told me that he felt his hamstring again," Clippers coach Doc Rivers said about when George hurt himself in the first half. "He said it wasn't bad. I said you shouldn't have told me that. I don't think he wanted to come out. But once you tell me your hamstring, you feel anything, we have an All-Star break coming up, it's a no-brainer for us."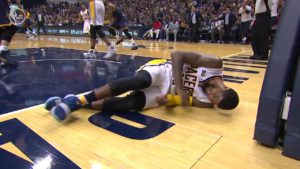 Rivers admitted he was worried about his guard, who had tightness in his left hamstring and missed a game against Memphis on Jan. 4. After returning and playing in a game, George strained his left hamstring during a practice on Jan. 8 and then sat out the next nine games.
"We got to get healthy," Rivers said, "That's going to be the key for us. And then we got to play multiple games in a row as a group so we can kind of get some continuity. But other than that, I love our spirit, I love how we are. We're good."
Although the 37-18 Clippers hold the No. 3 seed in the Western Conference, the team has dealt with injuries all season long. George has missed 21 games in total, while Kawhi Leonard has missed 13. Key rotation players Patrick Beverley and Landry Shamet have also been sidelined for 15 and 17 games, respectively.
George the injury king
Here is a look at Paul George's most notable injuries:
| | |
| --- | --- |
| 02/13/2020 | Hamstring |
| 01/09/2020 | Hamstring |
| 01/02/2020 | Hamstring |
| 05/07/2019 | Right Shoulder |
| 04/10/2019 | Shoulder |
| 03/28/2019 | Left Shoulder Soreness |
| 02/28/2019 | Shoulder |
| 12/27/2018 | Right Quad Contusion |
| 05/10/2018 | Knee |
| 04/17/2018 | Right Hip Contusion |
| 03/14/2018 | Sore Groin |
| 12/29/2017 | Sore Left Knee |
| 12/07/2017 | Calf Contusion |
| 11/27/2017 | Illness |