LeBron James Declares His Commitment Towards His Teammates
Published 03/09/2020, 2:34 PM EDT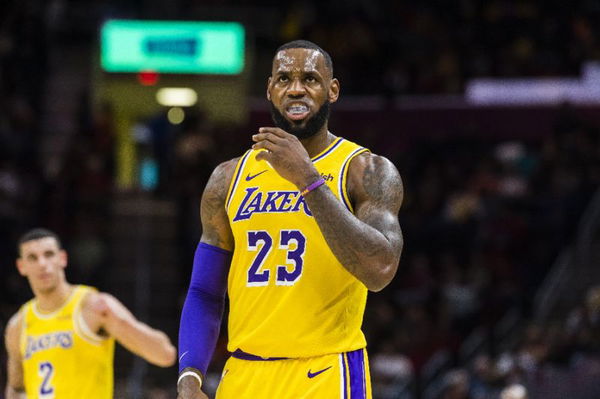 ---
---
The Los Angeles Lakers are in it to win it. Having had one of the best weekends so far in terms of match-ups, fans and team members alike are very happy with the game as of now. Lakers superstar LeBron James is a major contributor to the achievement of this feat.
ADVERTISEMENT
Article continues below this ad
LeBron James: Whatever it takes
ADVERTISEMENT
Article continues below this ad
King James has been known for his play of the offense. However, he is just as famous for being less than average on the defense. According to James, his team mates asked him to step up his defense game. James did so with full commitment and the results were out there for everyone to see.
Even though he could not shut down Kawhi Leonard, Paul George, or  Giannis Antetokounmpo completely, the veteran showed that he still has it in himself to improve when asked to. The Lakers won 113-103  against the Milwaukee Bucks and 112-103 against the Los Angeles Clippers.
LeBron let everyone know that he would go to extreme ends to make sure he can give his team and teammates the best performance that he can.
James and the Lakers: Going up the ladder
LeBron said preparation made him fit to put everything he could into the back-to-back games over the weekend. He prepared mentally as well as physically to give the game his everything. According to him, he had to do so to perform well even at this stage in his career.
"I prepare myself," LeBron said.
"It's my responsibility to put this team in a position to be successful. They look at me as a leader, and it's my job to not only on the floor to get guys opportunities, get them great looks, but inspire them as well and show them I'm not slowing down even at this stage in my career."
"It's just a blessing. It's a blessing to be doing what I am doing at this juncture of my career."
The Lakers are currently a terrifying team to play against. With LeBron James and Anthony Davis forming a dangerous duo and up and coming players like Kyle Kuzma improving day by day, one may expect a good performance in the playoffs.
ADVERTISEMENT
Article continues below this ad
ADVERTISEMENT
Article continues below this ad
The Los Angeles Lakers clinched a playoff berth in the first seed in the Western Conference on March 6, 2020. This is a very important achievement as the last time they were in the playoffs was in 2013. This season looks hopeful for the team in terms of winning the championship.