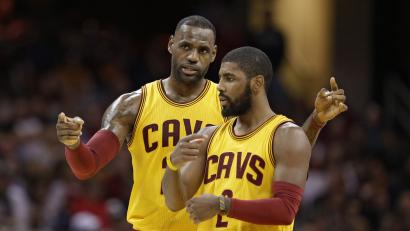 LeBron James and Kyrie Irving have had a ton of fallouts and it shows. However, King James seems to be making efforts to mend his relationship with his Cleveland Cavaliers teammate.
James' Los Angeles Lakers faced Irving's Nets in Brooklyn on Thursday and won the game. After the contest, James and Irving shook hands and shared a big hug.James shared photos of that on Instagram, captioning it "Brothers! 3 years of eternal moments, memories. Young God was Epic!"
James calling the two of them "brothers" shows how they still feel about each other.
When Irving demanded a trade from the Cavaliers ahead of the 2017-2018 season, it was because he wanted to get away from James and lead his own franchise. Irving's two seasons in Boston did not go well, and the young point guard learned just how difficult it is to lead your own team. That lesson helped him reconcile with LeBron.
There was even talk that Irving would be open to teaming up with James for the second time in their careers, though that ultimately did not happen. But it's clear the two are on good terms after being teammates for four seasons in Cleveland.
Cue to present, the official Lakers Instagram posted a video of James showing them how it's done with a reverse layup. LeBron, in turn, posted the video on his official Instagram with the caption, "Learned that from Young God", and tagged Kyrie Irving.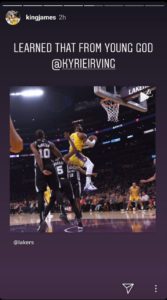 LeBron James Leading The Lakers to Victory
James knocked down five three-pointers in a 2:56 span en route to 36 points. The Los Angeles Lakers defeated the visiting San Antonio Spurs 129-102 on Tuesday at Staples Center.
James added nine assists and seven rebounds for the 38-11 Lakers, who won their second straight game. Kyle Kuzma contributed an 18-point, 12-rebound double-double, and Davis had 18 points as well.
DeMar DeRozan dominated for the 22-28 Spurs with 28 points, nine rebounds and seven assists. LaMarcus Aldridge went just 3-of-10 for seven points.