Los Angeles Lakers News: Danny Green Updates on Team Amidst Shutdown
Published 03/15/2020, 2:14 PM EDT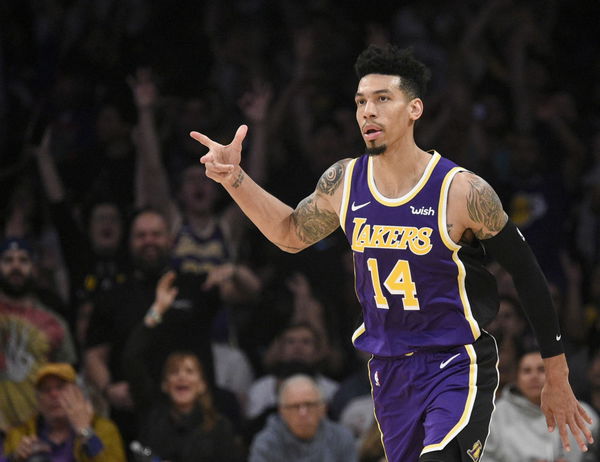 ---
---
The Coronavirus pandemic has the world in a frenzy as well as on a shutdown. With the NBA season put on hold for at least 30 days, most players are sitting idle. Playing video games seems to be their new pass time. However, Danny Green of the Lakers recently revealed that some things were stirring up.
ADVERTISEMENT
Article continues below this ad
Danny Green gives Lakers update
Los Angeles Lakers shooting guard Danny Green has news for the fans. Almost everyone in the NBA is sitting bored and unaware of what to do. Green, however, revealed some Lakers inside news in an exclusive facetime interview with Taylor Rooks of Bleacher Report.
ADVERTISEMENT
Article continues below this ad
Green said that Lakers are still holding individual workouts while being alert for any and all developments.
"We're not actually allowed to be around each other as a group right now. Individual workouts were happening (Saturday). We did see some guys in passing, got a chance to talk a little bit, chop it up. Guys are figuring out what the next move is.", Green said.
Green also talked about the backlash Rudy Gobert is facing for his irresponsible behaviour with regards to keeping to himself before testing positive for the COVID-19
Lakers' other plans
Green also suggested that many of his teammates are looking into responsible avenues of spending time with their families during the NBA's hiatus. Their routine has been disturbed because they can't play with their team.
"I think most guys are just habitually used to being in the gym every day with each other and playing," Green said.
ADVERTISEMENT
Article continues below this ad
"I think, you know, a week away from basketball for us is like a long period of time. Obviously it's still fresh. It's only a couple of days, but a week from now, guys will be very bored and not know what to do with their idle time."
The NBA declared a complete lockdown after Utah Jazz player Rudy Gobert became the first NBA player to test positive for the dreaded Coronavirus. NBA commissioner Adam Silver said this lockdown would last at least 30 days.
Most of the players are either spending their time with their family or playing video games.
ADVERTISEMENT
Article continues below this ad
Hopefully, the guys will soon find some alternatives to keep the game fresh in these trying times.