Magic Johnson Reveals His Thoughts on Lakers vs. Clippers
Published 02/19/2020, 12:43 PM EST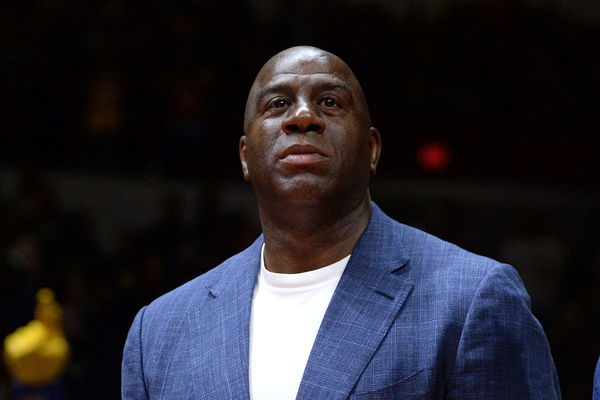 ---
---
Los Angeles Lakers legend Magic Johnson said he expects the Lakers to meet the rival Los Angeles Clippers in the 2020 Western Conference Finals. It has been almost a year since he abruptly resigned as the head of the Lakers' front office. Johnson has now returned to a familiar role: opining about his former team.
ADVERTISEMENT
Article continues below this ad
Magic Johnson on Lakers VS Clippers
Johnson predicted the Lakers and Clippers will meet in the Western Conference finals before the winner takes on the Bucks in the NBA Finals. But which LA team does he think will be playing for the Larry O'Brien Trophy?
ADVERTISEMENT
Article continues below this ad
Mark Medina of USA Today provided comments Wednesday from the five-time NBA champion and former Lakers president of basketball operations about that potential marquee matchup.
Now that Magic Johnson isn't Lakers' president of basketball ops, he's back to following them from afar. So he went in depth sizing up the Lakers vs the Clippers pic.twitter.com/J7kyCyK8iK

— Mark Medina (@MarkG_Medina) February 14, 2020
"If you look at man-for-man, (the Clippers are) probably better than (the Lakers) in terms of the bench," Johnson said Friday at a McDonald's-sponsored event in downtown Chicago called "Black & Positively Golden."
"But to Anthony Davis and LeBron James, to me, they are going to be the key and they are going to have to dominate in that series. Then we're going to need that third scorer."
The Clippers have mostly relied on Paul George and Kawhi Leonard. They do have definitive third options in either Lou Williams or Montrezl Harrell. Johnson conceded uncertainty on whether Kyle Kuzma, Danny Green, Avery Bradley or anyone else could assume such a role for the Lakers.
In the Lakers' two regular-season losses to the Clippers, the Clippers outplayed them in the final period. In the season-opening win, the Clippers opened the fourth quarter with a 19-7 run. Then on Christmas Day, the Clippers overcame a seven-point deficit in the final six minutes.
Johnson's predictions and where the players stand now
James, Davis and the Lakers (+110) hold a slight edge over Kawhi Leonard, Paul George and the Clippers (+175). However, that's followed by a significant drop to the Houston Rockets (+700) and Nuggets (+900).
Johnson said the Lakers are "playing the best out of anybody." He anticipates "LeBron and Anthony will figure it out in the playoffs," per Medina.
ADVERTISEMENT
Article continues below this ad
Kyle Kuzma is next on the team's scoring list at 12.6 points per game. However, he's shooting just 43.7 per cent from the field and 33.2 per cent on threes. Nobody else is averaging in double figures.
Danny Green, who owns 124 games of playoff experience and won championships with the San Antonio Spurs and Toronto Raptors, is an obvious candidate to support the star duo.
The Clippers have four players beyond Leonard and George averaging in double digits, including the recently acquired Marcus Morris Sr. That could prove crucial in a head-to-head meeting.
ADVERTISEMENT
Article continues below this ad
More important, Johnson predicted that "LeBron and Anthony will figure it out in the playoffs." Davis has averaged 26.6 points on 51.9% shooting, 9.2 rebounds and 2.4 blocks, while James has averaged 25 points on 48.9% shooting, a league-leading 10.8 assists and 7.8 rebounds."
Both teams still have a lot of work to do before that matchup becomes reality, though.