NBA Throwback: A Fitting Battle Between a Young Kobe Bryant and Michael Jordan
Published 03/28/2020, 1:19 PM EDT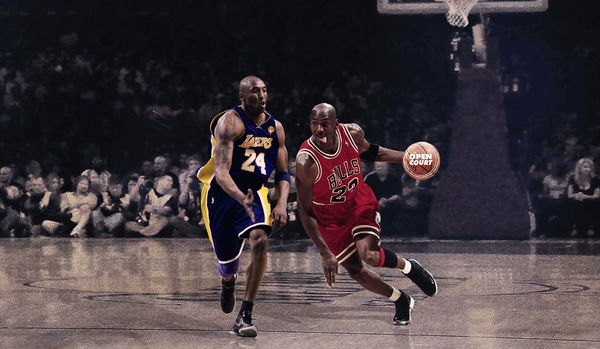 The NBA community didn't know what was coming for them when young Kobe Bryant joined the Los Angeles Lakers in 1996. Since then till the end of his career, the legend kept showing the world what he was made of. He knew he had to make a mark as early as possible, and when did, he sure went all in.
ADVERTISEMENT
Article continues below this ad
Kobe Bryant's duel with MJ
ADVERTISEMENT
Article continues below this ad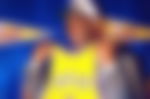 Just a year into his career in the NBA, a little Kobe Bryant decided he needed to play with the big boys as soon as possible. What better choice to make his mark against, than legendary NBA player Michael Jordan?
On 17 December 1997, a 19-year-old Bryant continued his streak of great performances. He scored 27 against the Rockets and 30 against the Mavericks. The Chicago Bulls were up next.
The sophomore guard showed one of the first glimpses of how he would go on to become great. Bryant ended up dropping 33 points off of the bench in a scoring duel with Jordan.
The legend scored 36 points to lead the Bulls to a 104-83 victory. Neither MJ nor Kobe disappointed the crowd at the United Center with their performances.
It was the first real competitive game of Kobe Bryant against Michael Jordan. Kobe's first two games against Michael the year before, as a rookie, were below average. He scored as less as 5 points in each of the games. In this game against the Bulls, however, Eddie Jones got into foul trouble. Kobe got the chance to play over 25 minutes and he impressed.
Both teams were missing some key players since like Shaquille O'Neal and Scottie Pippen, as they didn't play that night.
While the Bulls won by plentiful, the Lakers would have been even more doomed without Bryant's theatrics to make up for O'Neal's absence. Bryant proved that at some point in the near future he'd deserve a starting spot and might even one day become the best player in the league.
How MJ helped basketball geek Kobe Bryant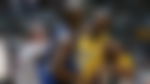 Even though Bryant was being as aggressive as he could in order to prove his place, he was still a rookie. More importantly, Michael Jordan was a star player! So Kobe, who considered himself a basketball geek at the time decided to shoot his shot.
Bryant asked MJ how to find more space to take a shot, and the legend was more than willing to pass on his knowledge.
"Feel the defense with your legs. You can take advantage of that."
ADVERTISEMENT
Article continues below this ad
Bryant said the advice MJ gave him helped him elevate his game a bit more. A grateful Kobe highlighted that any minute alone with MJ served as a purpose to gain knowledge.
"I learned a lot about his game, a lot about how technically sound Michael was. It's one thing to watch him play and then play against him. His technique was flawless. I wanted to make sure my technique was just as flawless.
Talking about mental strategy and the kind of energy he shared with MJ, Kobe continued,
ADVERTISEMENT
Article continues below this ad
"Michael and I both know there are certain players we can intimidate and certain players that are afraid. Every now and then, you run into a player that has the same DNA you do and the same competitive spirit you do. You realize the bullying and trash talking is not going to work with this person."
After this incident, their relationship grew as really close friends. Jordan broke down when he was talking about Bryant in a speech after his tragic death.