Watch: Anthony Davis Saves the Ball to Set up Kyle Kuzma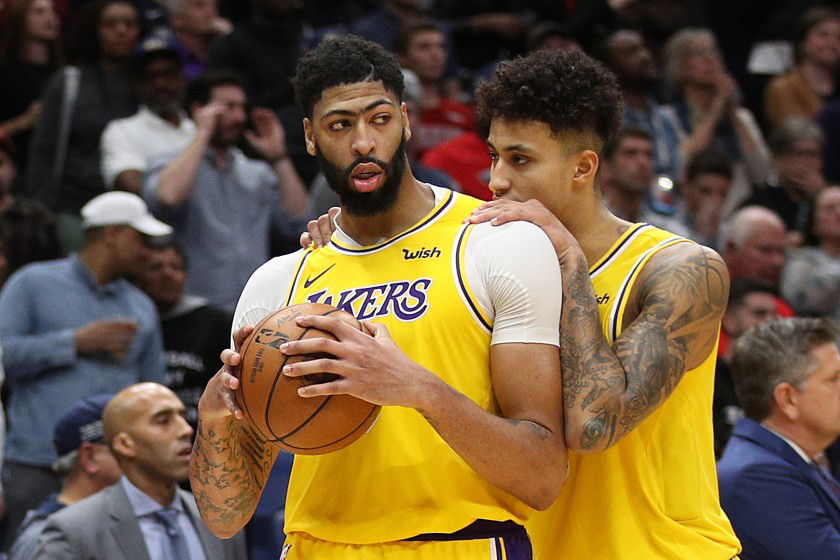 Los Angeles Lakers match-up against the Golden State Warriors on Thursday was definitely full of ups and downs. With LeBron James off-court due to a sore groin, Kyle Kuzma and Anthony Davis lead the team to a well-earned victory.
Kyle Kuzma and Anthony Davis: The show must go on
On Thursday night Kuzma and Davis looked like they knew they had a lot riding on their shoulders. With King James sidelined, it was up to them to perform and emerge victoriously. They most definitely lived up to the expectations and gave the Lakers it's 116-86 win.
Following a steal by Anthony Davis, Kuzma went full steam ahead on the break. He used a nifty euro step to evade Ky Bowman's defense followed by a strong finish to complete the highlight.
With under three minutes left in the third period, Kuzma punished the Dubs' Juan Toscano-Anderson's attempt for a chase-down block by throwing down a vicious right-handed hammer.
Kuzma throws it down… AND ONE. pic.twitter.com/4BVYseh8MC

— Legion Hoops (@LegionHoops) February 28, 2020
Kuzma even absorbed contact for good measure and earned himself a bonus attempt on the line. He followed Kentavious Caldwell Pope's slam in the previous play. He added 18 points off the bench.
 Kuzma and Davis deliver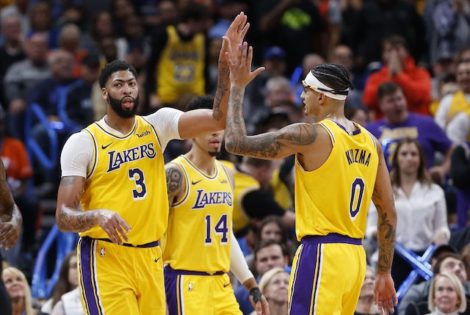 After a slow start this year, Kuzma has emerged as the third-leading scorer for the Purple and Gold this season. He is averaging 12.5 points, 4.3 rebounds, and 1.3 assists on 43.3 per cent shooting from the field and 31.7 per cent from 3-point range.
Davis had 23 points and six rebounds in three quarters. He shot 6 for 13, made 10 of 12 free throws. He also had a pair of blocked shots and steals for the Lakers, whose 12 first-half turnovers allowed the Warriors to keep it close.
"LeBron, when he's out, it's taking away a lot of things that we do, so it's on all of us to make sure we kind of fill those voids, and I think we did that tonight," Davis said.
James had been ruled out on Wednesday and coach Frank Vogel said postgame a decision on James' status would come Saturday morning ahead of a game at Memphis that night.
"Just dealing with some soreness. We're still two days away," Vogel said.
Get notified about breaking news and watch highlights on the go; join the Arena on NBA Hoops