"I Remember When Kobe First Picked Me..": NBA Star Recalls Getting Respect and Validation From Kobe Bryant
Published 04/25/2020, 4:01 AM EDT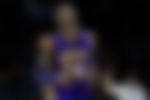 ---
---
Rookies and veterans alike have always sought validation from NBA legends. Such validations were a dream come true when it came from someone like Kobe Bryant. Dwyane Wade was one such star, who received wordless recognition of his abilities from the late legend.
ADVERTISEMENT
Article continues below this ad
When Kobe Bryant endorsed Dwyane Wade's NBA career
Miami Heat star Dwyane Wade spoke about earning the respect of his peers in an Instagram Live stream with Golden State Warriors star Stephen Curry.
ADVERTISEMENT
Article continues below this ad
The 38-year-old opened up about his early struggles and spoke of the disrespectful ways that opponents would guard him as they'd apparently back up all the way to the rim. However, things changed for him when the Heat played against the Los Angeles Lakers a little later in his career. He faced another legend of the game; someone who he looked up to. It was Kobe Bryant.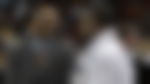 Kobe gave DWade the respect he strived for by guarding him 94 feet from the basket. It was at that moment, Wade knew, that he had established himself as a star in the league.
"I remember the game, when I first remember when we was playing the Lakers, we were playing against Kob (Kobe Bryant)," Wade said, recounting the incident. "And I remember when Kob first picked me up 94 feet."
Explaining why that was a significant moment, Wade continued, "The moment where guys start picking me up at 94 feet because they didn't want me to touch the basketball. That's the moment I was like, 'Oh okay, I got their respect now.'"
"I remember when Kobe first picked me up at 94 feet."

D-Wade looks back at the moment he felt respected in the league. (via @DwyaneWade) pic.twitter.com/pLzUZZkDqH

— SportsCenter (@SportsCenter) April 25, 2020
To put things in perspective, Wade recalled that Bryant would slack on him defensively and give him open three-point attempts.
Wade noted a time when Bryant used to wait until he crossed half court and got past the three-point line to start his defense. This aggressive act ended up being a legitimate acknowledgment of Wade's talent.
ADVERTISEMENT
Article continues below this ad
In the NBA, doing everything in your power to make your opponent helpless implies that the opponent is a threat. Hence, Wade felt that he had received validation from Kobe.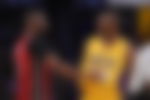 ADVERTISEMENT
Article continues below this ad