Giannis Antetokounmpo Poses a Question That Should Be on Everyone's Mind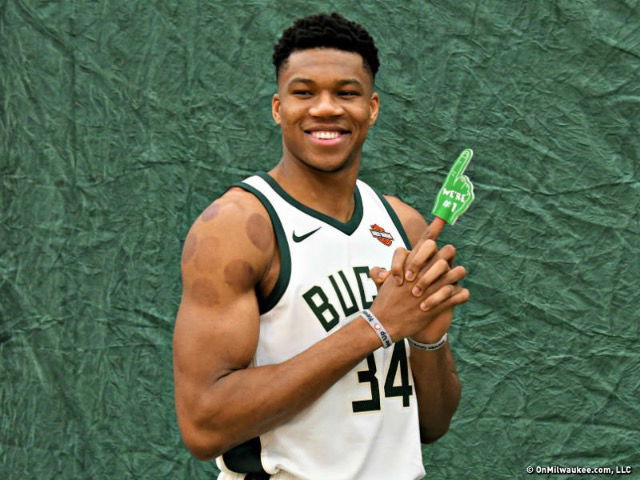 The NBA has been in lockdown mode for just a little more than a week now. However, NBA commissioner Adam Silver announced that players are not taking this well. Giannis Antetokounmpo is the perfect example of what the commissioner was talking about.
Giannis Antetokounmpo is up to Twitter shenanigans
Milwaukee Bucks star Giannis Antetokounmpo recently tweeted something which may make one wonder what exactly is going on in the player's mind. However, the tweet makes sense when one really thinks about it.
In the since-deleted post, 'Greek Freak' expresses concern over the amount of contaminated money left over from the pandemic. He wonders whether governments will print new money to keep infection away.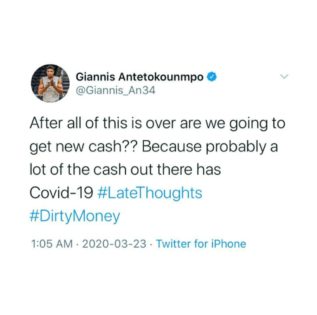 When one thinks about it, Antetokounmpo is right. By now, cash must have exchanged so many hands and touched so many unsanitized places.
However, former NBA player Kendrick Perkins was quick to display his concern.
You good Giannis? Everything okay?

— Kendrick Perkins (@KendrickPerkins) March 23, 2020
To this, Giannis replied with: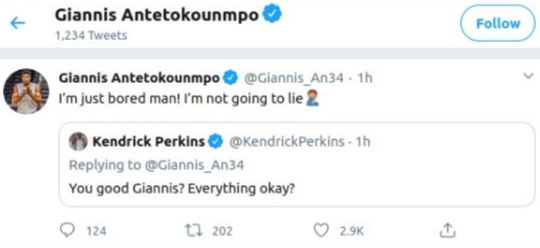 We are not yet aware of why he deleted the tweet and his reply to Kendrick Perkins.
How is the Greek Freak spending living in quarantine?
Giannis' Twitter posts say more than enough about how the player is spending his quarantine time. Late-night chess games with his long-time girlfriend Mariah Riddlesprigger, bad guitar sessions, and video games top the list of quarantine boredom.
His girlfriend posted a video of Antetokounmpo trying his hand at the guitar. One can hear him say, " that's my new hobby", in the video.
This ladies and gentlemen is why we all need basketball back… @Giannis_An34 🎸😂 pic.twitter.com/9F4aJIOIiW

— Mariah Danae (@mariahdanae15) March 15, 2020
Giannis is into video games, just as other NBA players. He took to Twitter to further what many people in quarantine have been demanding:
Is PS5 out yet?

— Giannis Antetokounmpo (@Giannis_An34) March 20, 2020
The PlayStation 5 is a much-awaited console, bound to release later this year. Other players like Ben Simmons, Karl-Anthony Towns, Devin Booker, and Kyle Kuzma have proven to be ardent gamers. They are streaming Call of Duty matches on Twitch almost daily during this unofficial quarantine period. Luka Doncic became one of the many NBA players to describe his quarantine time:
— Luka Doncic (@luka7doncic) March 13, 2020
Ja Morant, Trae Young, and Bradley Beal aren't far away from Luka's emotions either, as they continue to be in solidarity with the video game phase. Like Giannis and these players, everyone misses the NBA games and hope that the pandemic will get over soon.