Giannis Antetokounmpo Says He Would Love To Play With His Brothers; Sparks Speculations of a Lakers Move
Published 02/19/2020, 6:07 AM EST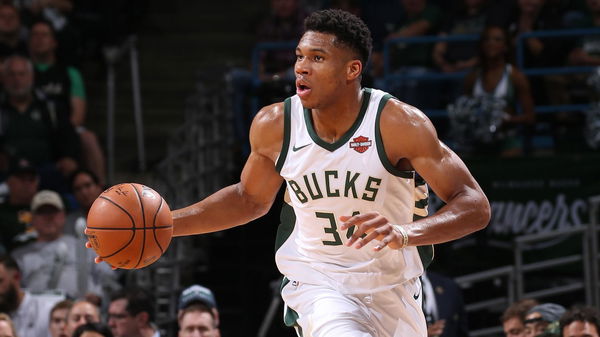 Milwaukee Bucks forward Giannis Antetokounmpo has had quite a journey in the NBA. In his rookie season in 2013, Antetokounmpo wasn't among the best rookies. But seven years on, he is one of the best players in the league.
In 2015, Giannis won the Most Improved Player award. He kept improving to become one of the best in the league. Last season, he led the Bucks to a Conference final and won the Most Improved Player award. This season, he looks like one of the favourites to win the award for the second season running.
Also, the Bucks look one of the favourites to win the Championship. The Bucks grew as a team along with Giannis and that is what keeps him in Milwaukee. "As long as we are winning," is what Antetokounmpo said in an interview with Mackenzie Salmon of Sports Pulse when he was asked if he would continue his legacy in Milwaukee.
ADVERTISEMENT
Article continues below this ad
Speculations begin about Giannis Antetokounmpo moving to Los Angeles Lakers
While Giannis plays with his older brother Thanasis in Milwaukee, his younger brother, Kostas, is under a two-year contract with the Lakers. Giannis has a contract with the Bucks that runs till the end of 2020-21 season.
As his contract expires, teams might look to swoop in Giannis. Among the teams, most recently, people began to speculate a move to Lakers. The speculations started with Giannis talking about playing with his brothers.
While Giannis was saying about how he would love to play with his brothers, he named two teams- the Bucks and the Lakers. Although the mention was random, it started speculations of Giannis possibly moving to Los Angeles Lakers.
ADVERTISEMENT
Article continues below this ad
ADVERTISEMENT
Article continues below this ad