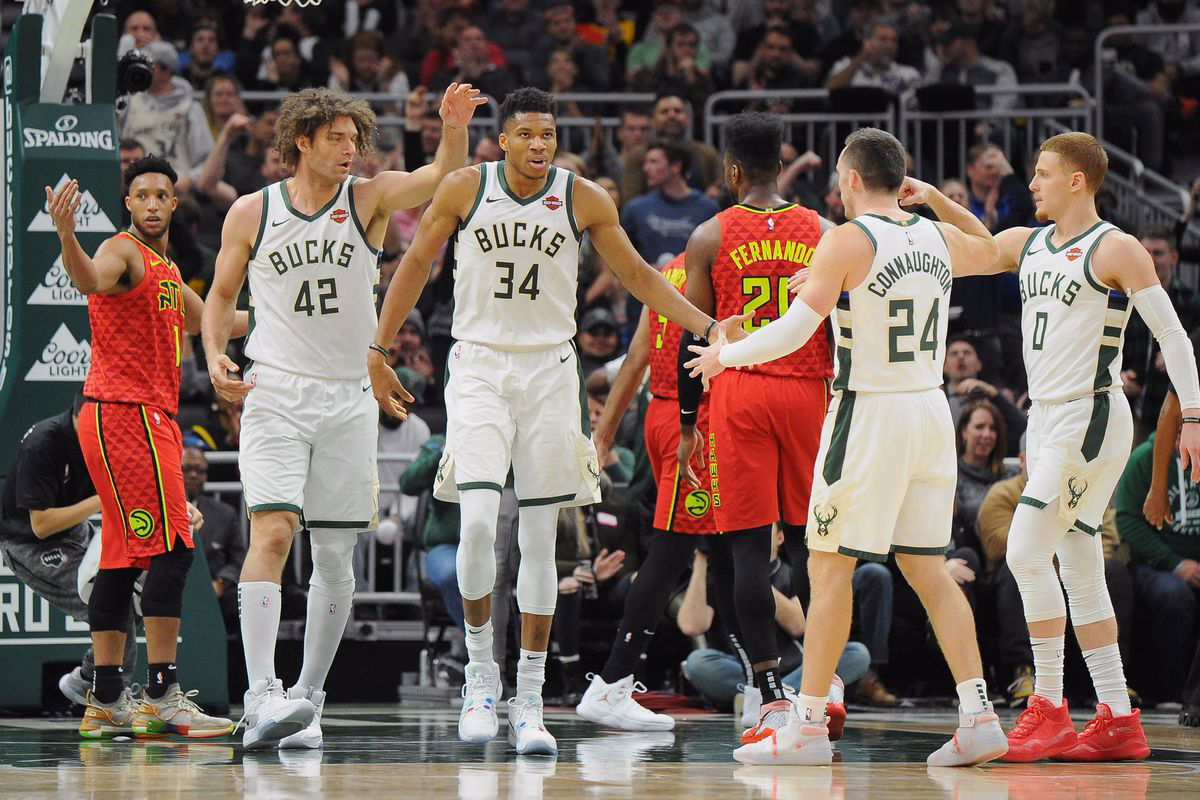 The playoffs may be two months away, but that doesn't mean anything to the Milwaukee Bucks. The fact that they have clinched a spot in the NBA playoffs talk about just how good the team is.
Milwaukee Bucks: Fear the deer
The Bucks officially punched their ticket on Sunday, despite not playing a game that day. Instead, the team watched as the ninth-place Washington Wizards fell 126-117 to the Chicago Bulls, pushing the Wizards 27.5 games back with 27 games to play.
— Milwaukee Bucks (@Bucks) February 24, 2020
The Mike Budenholdzer-led squad became the first team this season to clinch a playoff berth, all the while breaking the Golden State Warriors' record for the fastest team to do so.
Of course, it was long a given that the 48-8 Bucks were making the playoffs between their talent and the putridness of the Eastern Conference.
Behind Giannis Antetokounmpo, the Bucks have managed to top the heights of last year's Eastern Conference No. 1 seed squad, and it's primarily thanks to their mutant MVP frontrunner somehow getting even better.
The Greek Freak is currently averaging 30.0 points, 13.6 rebounds and 5.8 assists per game while leading the league in defensive rating and averaging only 30.9 minutes. Just imagine if he played as many minutes as the rest of the MVP field. The Bucks haven't given him much reason to, though, as the team has won 33 of its 56 games by double digits.
The Bucks have it all

Relative Offensive Rating — Bucks Franchise History
1. 2018–19
2. 1970–71
3. 2000–01
4. 2002–03
5. 1971–72
6. 1985–86
7. 1999–00
8. 2003–04
9. 1973–74
10. 1980–81
They also rank as one of the elite defensive teams in franchise history.
Relative Defensive Rating — Bucks Franchise History
1. 1972–73
2. 1971–72
3. 2010–11
4. 1981–82
5. 2009–10
6. 1985–86
7. 1984–85
8. 1973–74
9. 1970–71
10. 2018–19
The Bucks currently have a 6.5-game lead over the Toronto Raptors for the No. 1 seed, so the team should have plenty of breathing room to prepare for the playoffs over the next two months. Milwaukee will be looking to improve on last year's finish, an Eastern Conference finals loss to the Raptors.
They have also helped stars like Khris Middleton and Eric Bledsoe to redeem themselves. Bledsoe was disappointed with the Suns' performance. After he was traded to the Bucks in 2017, the Bucks started to rebuild again. This, in turn, helped the players up their games. Giannis Antetokounmpo also rose to stardom while with the Bucks.