WATCH: Giannis Antetokounmpo Talks About Bam Adebayo After Defeat
Published 03/03/2020, 12:55 PM EST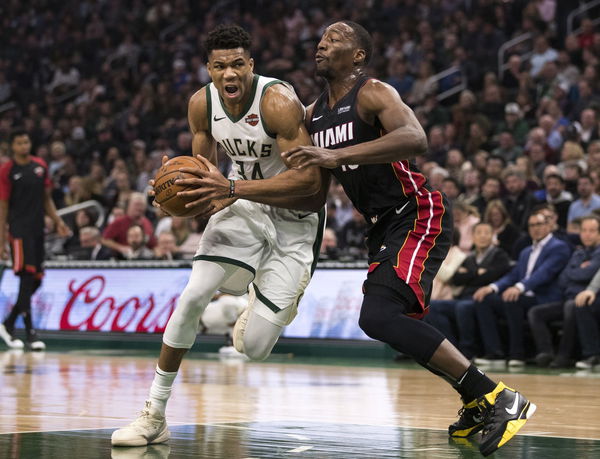 ---
---
Many events occurred on Monday lead us to the conclusion that it was not the day for the Milwaukee Bucks. Not only did they suffer their ninth loss of the season, but they fell to the Miami Heat. The Heat became the first team in the league to beat them twice when they ran away in the second half for a 105-89 win in South Beach. Giannis Antetokounmpo, however, wasn't in on his best performance.
ADVERTISEMENT
Article continues below this ad
Giannis Antetokounmpo: Defeated?
ADVERTISEMENT
Article continues below this ad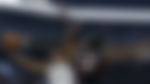 One of the most important factors in the Heat's victory is that they were able to slow down Giannis Antetokounmpo. Something very few teams have had much luck doing this season.
The Heat swarmed to Antetokounmpo when he had the ball, trying to pressure him and force him to give it up when they could. But unlike many teams, Antetokounmpo, who was coming off a 41-point, 20-rebound game and is the reigning most valuable player, was held to a season-low 13 points.hey also have a big man named Bam Adebayo, and the youngster was ready for the challenge of guarding Giannis.
Few players have the size, strength and athleticism to hang with Giannis, but Adebayo is one of them. Time and again, he was able to force the Bucks star into tough looks. Just a few minutes into the game, Giannis got out into semi-transition and tried to take it right to the rim, but Adebayo wasn't having it. The Heat center was able to move his feet, take the bump and still get up for a strong contest.
Bam Adebayo put up with Giannis' every move and was able to slow him down. Shutting down the reigning MVP is impressive no matter what, but the fact that Adebayo was able to have success in so many different situations is what made this performance really stand out.
"We've had moments and that's what we've been trying to work on," Heat coach Erik Spoelstra said. "Not saying that we can hold great offensive teams like this regularly under 90, obviously that's not realistic, but we have it in us. It was just a lot more focus and commitment and urgency because of the respect level of who we were playing."
Giannis all praise for Adebayo
Giannis was all praise for Bam Adebayo. He was also positive about hard work done by other teams as well.
"You're going to win some games and you're going to lose some games. We're not going to go 82-0," Antetokounmpo said. "Miami is a great team. They came out and played really hard tonight, and we're definitely going to play them again at some point and we'll have to play better and play hard."
"We're always the underdog. I feel like we can play with anybody. And my teammates believe that the coaching staff believes that and this city believed it," Adebayo said. "So we can play with anybody and this is one knock off and we just gotta keep going from here."
ADVERTISEMENT
Article continues below this ad
Adebayo's defensive impact played a huge role in holding Bucks star and reigning league MVP Giannis Antetokounmpo to a season-low 13 points. Antetokounmpo was 6-of-18 from the field (33.3%), tied for his second-worst shooting game of the season.
If current seedings hold, the Bucks (the top seed) and Heat (currently fourth) could face off in the second round of the Eastern Conference playoffs.
ADVERTISEMENT
Article continues below this ad