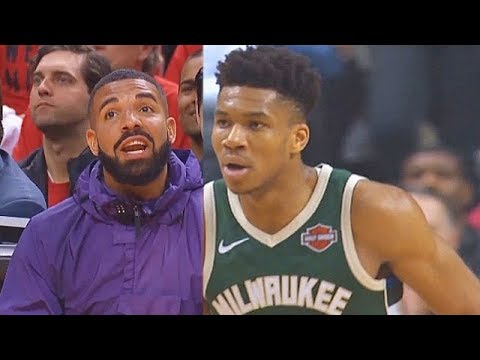 The Toronto Raptors played against the Milwaukee Bucks on Tuesday. The Raptors global ambassador and hip-hop icon Drake, was there to make his presence felt. Drake was playing mind games with the Milwaukee Bucks at Scotiabank Arena on Tuesday night, boldly flashing an NBA championship belt along with a WWE belt as he sat courtside for the intense battle. Giannis Antetokounmpo, however, did not seem to mind.
Giannis Anketokounmpo: Unhazed
even before the game began, Drake flexed his muscles. He was spotted with a pair of custom WWE title belts from the Raptors' 2018-19 championship season. Needless to say, the rapper was very confident in his team's chances as he entered the building.
Drake could even be heard saying "we have our own belts too."
We got belts too. #WeTheNorth@Drake | @WWE pic.twitter.com/PRkND0hHBp

— Toronto Raptors (@Raptors) February 26, 2020
Giannis Antetokounmpo hits back
It was no different when it came to Bucks star forward Giannis Antetokounmpo. However, Antetokounmpo at one point had enough of Drake's antics and told him to "shut the f— up."
Totally missed that Giannis told Drake to stfu 😂 pic.twitter.com/KxzgIvTSKM

— 𝘾𝙝𝙧𝙞𝙨 𝙋. 𝘽𝙖𝙘𝙤𝙣 🥓 (@MKESZN) February 26, 2020
After helping his team escape with a convincing 108-97 win over the defending champions, Antetokounmpo addressed Drake's futile attempt at trolling his team.
"I didn't notice that. I just found out about it," The Greek Freak admitted post-game. "I'm in the game, I'm just locked-in. I really don't look at fans and what they do and all that".
"He (Drake) cares about me. I really don't. I'm just here to win games and help my team win".
"I'm just here to win games and help my teammates." pic.twitter.com/UBtTVU5KWQ

— Milwaukee Bucks (@Bucks) February 26, 2020
Giannis Antetokounmpo had another fine performance against the Raptors, finishing with 19 points, 19 rebounds, and eight dimes in 38 minutes. The victory also sealed the Bucks' 50th win of the season and stretched their streak to four games.
Milwaukee, of course, has had a love affair with professional wrestling this season. Led by Giannis, the team has been figuring in WWE-esque promos before games just to loosen up. Drake obviously knew that and wanted to send a message with his belts.
Antetokounmpo ended up getting the last laugh, even if there is never a dull moment when Drake is in the house.