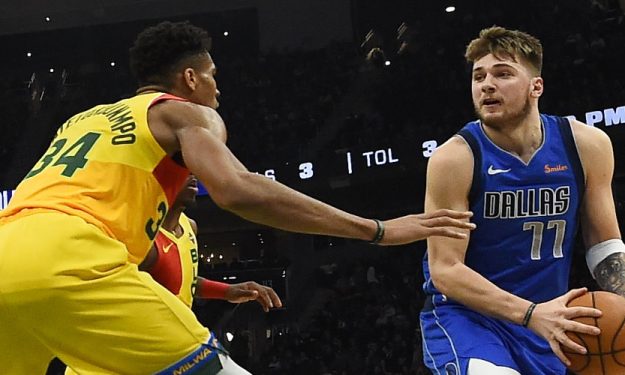 Giannis Antetokounmpo doesn't like mistakes, especially if it's regarding the nationality of his fellow NBA players. In his recent Instagram live, Giannis corrected one of his fan who wrongly stated that Luka Doncic is Serbian.
Reading through comments on IG live, Giannis noticed someone mixing up  Doncic's nationality. In response, the Milwaukee Bucks star confronted them and said, "First of all fellas, Luka is Slovenian. He is not from Serbia. You are dumb". Giannis's girlfriend Mariah Riddlesprigger immediately advised him, "Don't say that."
Giannis said dumb to his fan on IG live when his fan said luka is Serbian. Giannis corrected him that he is Slovenian. pic.twitter.com/ZqSrknTJhB

— Killua (@Killuax18181226) March 27, 2020
Luka Doncic, who plays for Dallas Mavericks, has given some tough competition to Giannis for 2018-2019 season MVP. The rivalry between the two stars has been a treat to watch for fans on the court. But besides this rivalry, Giannis has shown that he treats all his fellow NBA players with the respect that they deserve.
Luka Doncic has also been playing on top form in his second season at NBA. The Dallas star has been averaging 28.7 points, 8.7 assists, 9.3 rebounds and 1.1 steals per game this season.
In the IG live, Giannis also spoke about his favorite rookie from the current season. He named Memphis Grizzlies star Ja Morant. When asked about his favorite NFL team, Bucks star replies with Pittsburgh Steelers.
Antetokounmpo also named Tupac, J-Cole and Kendrick Lamar as his favorite rappers in the game. Meanwhile, Drake was just busy asking Giannis about the most annoying fan to play in front of.
DRAKE ON GIANNIS INSTA LIVE ASKING QUESTIONS IM DEAD skskskskskfghkl pic.twitter.com/mPWeyUSqGd

— 👀 (@MaFuzzyRaps) March 27, 2020
Giannis Antetokounmpo was cruising towards 2nd MVP
Before the NBA suspension and his injury, Giannis was leading Milwaukee Bucks towards historic 70 win a season. Bucks could have been the only 3rd team in NBA history to win 70 games in a season after Chicago Bulls and Golden State Warriors. The 1 time MVP was also sailing towards his second consecutive MVP.
Antetokounmpo was carrying Bucks both offensively and defensively all this season long. Giannis averaged 29.6 points and 13.7 rebounds per game this season. These are the two figures that should be really hard for any player who is also a great defensive asset. On the defensive side, opponents were shooting 9.7% worse against Giannis than they would normally expect to based on where they shot from.