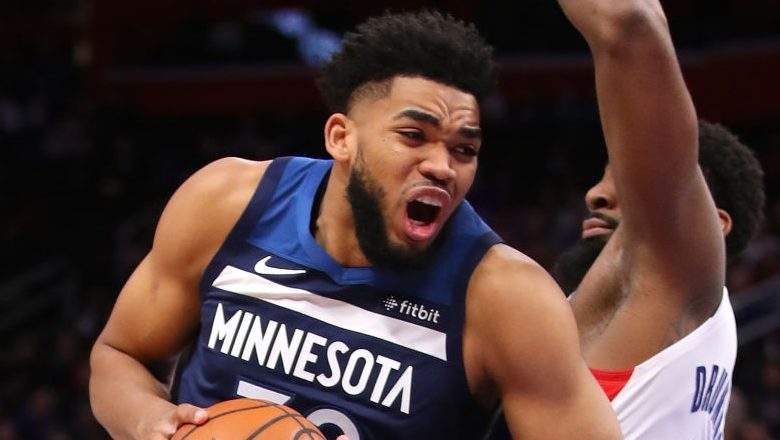 Minnesota Timberwolves star Karl-Anthony Towns suffered a wrist injury in the days leading up to the NBA All-Star break, and it appears he will miss at least a few games once play resumes on Thursday.
The injury that might keep Karl-Anthony Towns on the bench for a long time
Coach Ryan Saunders told reporters that the team held Towns out of its first practice after the All-Star break on Wednesday. Saunders said Towns will miss upcoming games, but the coach did not specify how many.
Jon Krawczynski
of The Athletic reported that Towns is still being evaluated, and head coach Ryan Saunders said the team has no timetable for his return.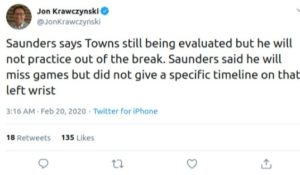 How the Karl-Anthony Towns injury affects the Timberwolves
This is a rather frustrating development for Towns and the Timberwolves, who were one of the most aggressive teams at the trade deadline with the hopes of surrounding Towns with young and promising players.
The Timberwolves made moves to acquire the likes of Malik Beasley and D'Angelo Russell — whom Towns had been lobbying to sign in free agency last summer — in the backcourt. They all played just one game together before Towns went down with that injured left wrist.
Towns missed Minnesota's final game before the All-Star break after an MRI revealed the injury.
Towns is averaging a career-best 26.5 points and 10.8 rebounds per game this season. He missed 15 games earlier this season with a sprained left knee.
Towns has hardly had any durability issues in his young career. He played in all 82 games in his first three years while also playing in 77 contests last season. Yet, he has already missed 18 games this 2019-20. Most of these stemmed from a sprained right ankle suffered in December.
it would benefit Karl-Anthony Towns to get some run alongside his new teammates. That said, he is still the centrepiece of this Minnesota team and the Timberwolves have to protect their investment.