NBA Mock Draft 2015
Published 06/25/2015, 7:53 AM EDT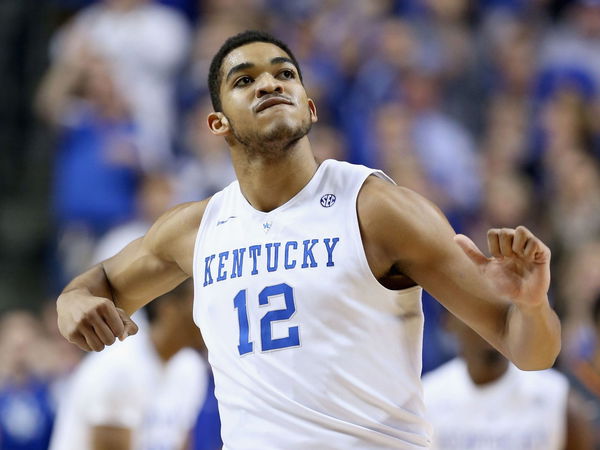 ---
---
The NBA Draft is right around the corner, we bring to you our own NBA Mock Draft 2015 for the first 14 picks in this year's draft.
ADVERTISEMENT
Article continues below this ad
Minnesota Timberwolves: Karl-Anthony Towns, Kentucky, 6'11", PF/C, Freshman

Karl-Antony Towns
The Timberwolves were the worst defensive team in the NBA allowing 105.6 points per game. Towns will give Minnesota a much needed rim protector. On the offensive side, scouts believe that Towns can develop into a face up player with the ability to knock down the three on a consistent basis. Only
Flip Saunders stands in the way
of Towns being this year's first pick.
2.  Los Angeles Lakers: Jahlil Okafor, Duke, 6'11", C, Freshman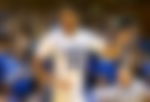 ADVERTISEMENT
Article continues below this ad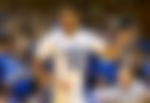 The Lakers will be hoping that Towns falls to them, however, they have a pretty good second option in Jahlil Okafor. Okafor's wide array of post moves combined with his huge hands make him an offensive force. Several scouts have raised questions about his defensive ability, but, he can develop into an average defender with right players around him.
 3.  Philadelphia 76ers: D'Angelo Russell, Ohio State, 6'5″, PG, Freshman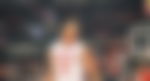 ESPN's Chad Ford has suggested that the 76ers may be interested in picking Latvia's Kristaps Porzingis after his impressive workout in Las Vegas. But, Philadelphia has a glaring need at point guard which can be filled by Russell easily. His lack of athleticism has been cited as a concern by many, however, his passing skills, shooting ability and confidence combined with maturity should prove to be enough to convince GM Sam Hinkie to pick him third.
4.  New York Knicks: Kristaps Porzingis, Latvia, 7'1″, PF, 1995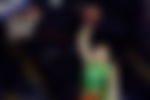 Porzingis is one of the most skilled players in this year's draft, his ability to knock down threes as a 7'1" player makes him a valuable assets in today's NBA. Phil Jackson has already stated that the Knicks will persist with the triangle offense and Porzingis' skill set fits perfectly into that system. Porzingis needs to gain weight in order to defend players bigger than him, but that can be achieved with some work and should not be a major concern for the Knicks.
5. Orlando Magic: Justise Winslow, Duke, 6'6 ½", SF, Freshman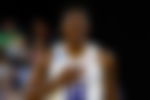 Winslow will help a Magic team that was one of the worst defensive units in the league. He can become a fearsome defender with the ability to contribute consistently on the offensive end. With the impending exit of Tobias Harris, Orlando needs to draft a quality wing player to go along with the excellent young core they have assembled.
6.  Sacramento Kings: Mario Hezonja, Croatia, 6'8″, SG/SF, 1995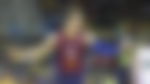 The Kings will have to choose between Emmanuel Mudiay and Hezonja with this pick. Sacramento already has a player similar to Mudiay in Darren Collisson. Kings GM Vlade Divac knows all about Hezonja's impressive athleticism, three point shooting and ball handling ability. He will immediately improve a team which lacked wing scoring.
7.  Denver Nuggets: Emmanuel Mudiay, China, 6'5″, PG, 1996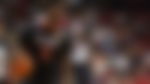 Mudiay was touted by many to be a top 5 pick, but his year in China was disrupted by injuries and he was unable to showcase his talents. With the Nuggets looking to trade Ty Lawson, Mudiay would fit perfectly in Denver with his athleticism enabling him to cope up with the altitude and the running game new head coach Michael Malone plans on playing.
8.  Detroit Pistons: Stanley Johnson, Arizona, 6'6 ½", SF, Freshman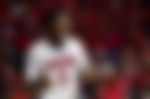 The Pistons will look to fill a gaping hole at the wing after trading for a stretch four in Ersan Ilyasova. With Hezonja already off the board they would be left with either Sam Dekker or Johnson. The Arizona product would complement Ilayasova who is not as adept defensively. Johnson needs to work on his jumper but he has the tools to become a lockdown defender in the NBA.
9.  Charlotte Hornets: Willie Cauley-Stein, Kentucky, 7'0 ½", C, Junior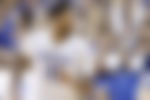 The Hornets value talent more than team fit and will not pass up on Stein if he is available. He has the potential to become a Deandre Jordan type defender, a rim protector who can switch on pick and rolls and defend against guards with the same ease. Charlotte ranked last in three point shooting last year and maybe tempted to go with Stein's Kentucky teammate Devin Booker, but, Stein's defensive potential should prove to be too valuable to pass up.
 10. Miami Heat: Sam Dekker, Wisconsin, 6'9″, SF, Junior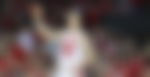 Dekker was the first player to meet with the Heat in May. His ability to make plays offensively as well as defensively make him a good fit for a Miami which is surrounded by a lot of questions about its All-Star guards Dwyane Wade and Goran Dragic. Dekker has experience and an NBA ready body; he will be able to contribute to the Heat from the first game of the season.
11. Indiana Pacers: Myles Turner, Texas, 6'11 ½", C, Freshman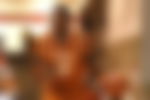 Turner's ability to protect the rim and stretch the floor makes him an attractive player. He can become a defensive anchor for the Pacers, who have looked at Frank Kaminsky as another option for this pick. Turner will allow Indiana to play small; it is hard to see them passing up on him, if he is available to them.
 12. Utah Jazz: Frank Kaminsky, Wisconsin, 7'1″, PF/C, Senior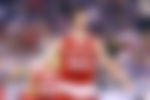 The Jazz already have two interior oriented big men. Kaminsky will allow Utah to stretch the floor and enable its guards and wings to attack the rim. Kaminsky has been around long enough to ensure that teams value his high character and work ethic making him a perfect fit for a Jazz team looking to make a playoff push next year.
13. Phoenix Suns: Devin Booker, Kentucky, 6'6″, SG, Freshman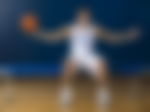 Booker will give the Suns some insurance if they are unable to resign Marcus Thornton and Gerald Green. Booker has shown the ability to score coming off screens which would allow him to coexist with two ball dominant guards in Brandon Knight and Eric Bledsoe. Booker has the talent as well as the fit to justify the Suns picking him with the 13 pick.
14. Oklahoma City Thunder: Cameron Payne, Murray State, 6'1 ½", PG, Sophomore
ADVERTISEMENT
Article continues below this ad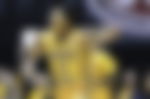 Payne has not worked out with the Suns which could mean that he falls to the Thunder if the Pacers and Jazz opt to draft big men with their picks. Payne is great offensively and he will help the Thunder off the bench and give Russell Westbrook some much needed rest as Oklahoma City prepares for Kevin Durant's return
Watch This Story
ADVERTISEMENT
Article continues below this ad