'Physically Impossible': Former Teammate Reveals Insane Story About Shaquille O'Neal From LSU Tigers
Published 04/06/2021, 1:40 PM EDT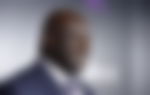 ---
---
Hall of Famer Shaquille O'Neal is one of the most dominant players the NBA has seen. But his dominance started right from his college days with the LSU Tigers. O'Neal played three seasons in college and was one of the best players in the country.
ADVERTISEMENT
Article continues below this ad
His former teammate, Geert Hammink, recently shared an insane yet unsurprising story about Shaq from his freshman season in college.
He narrated, "When he was 17, and for his standards skinny and growing, I remember (his) first summer. I was isolated against him in a pickup game and somebody else shot. I thought I had him solidly boxed out a meter and a half away from the rim. Somehow he jumped straight up, stretched out, rebounded, and dunked it over me. I was like this is physically impossible."
ADVERTISEMENT
Article continues below this ad
Early in his career, O'Neal was an athletic beast. He was a lot thinner and more mobile as well. So because of that, he was an imposing opponent.
Hammink played with Shaq on both the Tigers in college and the Orlando Magic in the NBA. Although he never made it big in the NBA, he got the chance to play alongside the Diesel for over six years.
Shaquille O'Neal: A force to reckon with right from his time with the LSU Tigers
Shaq joined the LSU Tigers in the 1989-90 season. In his first season, he played alongside Mahmoud Abdul-Rauf and Stanley Roberts, who were scoring options ahead of him. But he still averaged an impressive 13.9 points and 12 rebounds per game in his freshman year.
ADVERTISEMENT
Article continues below this ad
In his sophomore year, Shaq had an absurd campaign. The departure of Rauf gave the chance to lead them in scoring, and he averaged 27.6 points, 14.7 rebounds, and five blocks per game. It is one of the most dominant campaigns the NCAA has seen. He toned down his scoring a bit in his final season, but still averaged a superb 24.1 points and 14 rebounds per game.
Sadly, he was never able to lead his team to success. In his three seasons in college, the Tigers never went beyond the second round of the NCAA tournament. Despite that, NBA scouts knew his potential and his ability, which is why he was the unanimous #1 pick in the 1992 NBA Draft. And with four rings in a dominant NBA career, Shaq made up for not having any in college.
ADVERTISEMENT
Article continues below this ad