Shaquille O'Neal Recalls Historic Free Throw Performance In Finals Game for LSU Tigers
Published 03/19/2021, 2:00 PM EDT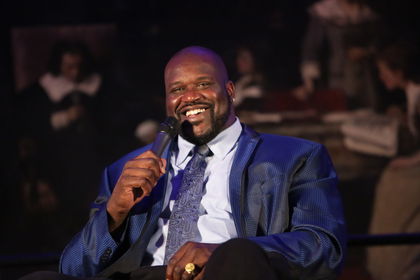 ---
---
Hall of Famer Shaquille O'Neal did everything one could have asked for from a traditional center. But he went way beyond the expectations, finishing his career with four rings and an MVP award too. However, there was one thing that plagued Shaq throughout his career, right from college – his free-throw shooting.
ADVERTISEMENT
Article continues below this ad
In his three seasons with the LSU Tigers, Shaq averaged 57% from the charity stripe. Even in the NBA, in his 19 seasons in the league, he only averaged 52% from the line. So when he shared a recent story about him excelling at free throws, everyone was stunned.
During a recent episode of the Post Game Show, Shaq spoke about his last game with LSU. He said, "I actually also have an NCAA record. In my last game, I was 12-12 from the free-throw line… versus Indiana… that's a record."
ADVERTISEMENT
Article continues below this ad
They had to confirm it later since no one could believe that Shaq had done this. It was his final game with LSU in his junior year and he dropped 36 points, but the team still lost.
The best free-throw performance from Shaq in his NBA career was when he went 7-7 from the line against the Dallas Mavericks in 2009. That came during his Phoenix Suns days, and that was one of his best free-throw shooting seasons.
Looking back at when Shaquille O'Neal was dominating the NCAA
When Shaq entered the NCAA with the LSU Tigers, they already had a star player in Mahmoud Abdul-Rauf. The sophomore guard averaged 27 points per game in the 1989-90 season. So there was not a lot of attention on Shaq, who was the third option on the team, behind Rauf and Stanley Roberts.
ADVERTISEMENT
Article continues below this ad
Both of them left in the next season, and Shaq became the best player on the team. With the team looking towards him as a leader, he had a fantastic season, averaging 27.6 points, 14.7 rebounds, and an insane five blocks per game. He had similar dominant performances in his junior season as well.
But unfortunately, as Shaq mentioned in the episode of the Post Game, his inability to lead the team is why they fell short in the NCAA tournament. They never went beyond the second round when he played. However, his individual performances didn't go unnoticed as he was drafted #1 in the 1992 Draft by the Orlando Magic.
ADVERTISEMENT
Article continues below this ad