Lakers' Danny Green Details Why Rob Pelinka Deserved NBA Executive of the Year
Published 10/20/2020, 4:30 PM EDT
---
---
Around 3 years ago, the Los Angeles Lakers revealed that Robert Todd Pelinka Jr. was slated to function in the capacity of their General Manager. Fast forward to this year, the Lakers won their championship title after a decade, and Rob deserves a lot of the credit for the same.
ADVERTISEMENT
Article continues below this ad
Pelinka is best known as the longtime agent of the legendary Kobe Bryant. He has also represented other star players like Andre Iguodala, James Harden, and Chris Bosh.
He shouldered a lot of responsibility and expectations as he settled into the role of the GM position. Even though Pelinka had never been part of the front office before, he still achieved results that the Lakers fans had been dreaming of.
ADVERTISEMENT
Article continues below this ad
With the season's end, Lakers' Assistant Coach, Phil Handy, sat down with Danny Green and Harrison Sanford to talk about all things purple and gold. They discussed the title, the celebrations that followed, the blueprint for next season, and finally, Pelinka's tremendous contribution.
Did the Lakers GM's hands-on contribution do the magic?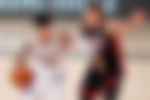 On 'Inside the Green Room with Danny Green', Sanford talked about how Rob was the one who brought Handy. Danny Green chimed in and stated that Pelinka even deserved Executive of the Year.
However, Sanford inquired about Pelinka's involvement throughout their time in the bubble. He asked, "What did that mean to you, and can you just reflect on him being very hands-on during this historic season?"
"It certainly didn't feel like he was GM," stated Phil. "Rob would get on the court and rebound. He was contesting shots. He was fully invested in just doing whatever he could to help make it successful on and off the court."
Was Kobe Bryant a motivating factor?
ADVERTISEMENT
Article continues below this ad
Phil elaborated on how his bond with Kobe also played a role in this. "His relationship with Kobe just plays a big part into how important this was for him as well."
Danny Green also hailed many praises of him. He said, "He was 100 percent supportive of me and everybody else around us when we had struggles. Big shout out to him, man! He showed a lot of love and support. He never gave up on us.
"He's a big part of the reason why we mentally got through it. He deserved 'Executive of The Year' not just because of things he did with making moves and picking up but that how invested he was.
ADVERTISEMENT
Article continues below this ad
"And I think a  part of that was because of missing Kobe a little bit too."
Whatever strategy or incentive Rob used for himself, it did wonders. We can only hope this driving force permeates into their upcoming campaigns, so as to ensure that the wait for another Los Angeles bound championship doesn't take a decade yet again.