The Monster Workout of Zion Williamson Which Makes Him the 'Athletic Freak' of NBA
Published 03/29/2020, 7:25 AM EDT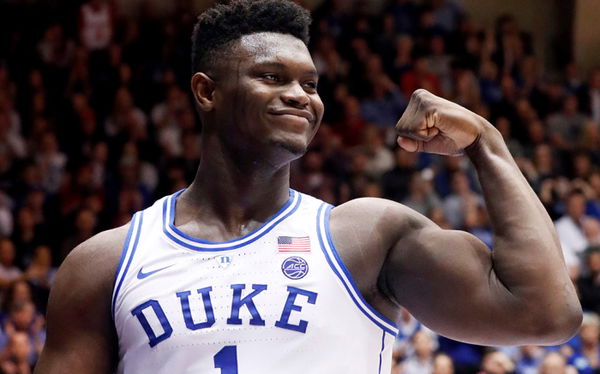 ---
---
If Giannis Antetokounmpo is the 'Greek Freak' of the NBA, then Zion Williamson is the 'Athletic Freak' of the league. The body structure of the New Orleans Pelicans star is huge and powerful even by the standards of an NBA player, let alone a 19-year-old boy.
ADVERTISEMENT
Article continues below this ad
The 6 foot 8, 284-pound Williamson possesses explosive powers far greater than his counterparts. His movements on the court are ethereal, as someone of his weight and height could not move at his speed in normal conditions.
Additionally, the rookie can also score from anywhere. Combine that ability with his ferocious defense and high basketball IQ. Your end product is an entity unseen on the basketball court before. And yes, did we tell you that the entity can also fly?
ADVERTISEMENT
Article continues below this ad
If we didn't, then just look at this video:
http://https://www.youtube.com/watch?v=l-nk-T17KsM
The above 20-minute highlight video is of a 19-year-old rookie from the 2019-2020 season, where this boy had only played 19 games. Surprisingly, the video is longer than most players' highlights who have played all the games this season.
In the first 19 games of his NBA career, Williamson has averaged 23.6 points, 6.8 rebounds and 2.2 assists for the New Orleans Pelicans. Williamson was also the favorite for 'Rookie of the year' before the season started, but because of his injury, the title veered towards another gem, Ja Morant.
 Zion Williamson is a 'Monster'
In his recent Instagram live, Miami Heat legend Dwyane Wade clearly in awe of Williamson, calls him a monster. When The former was asked about Zion, he replied "Monster. Literally like watching him play in the NBA is like going back and watching highlights of him in seventh grade and college. He's a monster".
Zion's athletic abilities are not natural.  The player has cultivated his talents himself, reaching a position where he rightfully deserves the 'monster' tag.
The below video might help you in what Zion does during daily training.
http://https://www.youtube.com/watch?v=uKg5QjRRurQ
ADVERTISEMENT
Article continues below this ad
To be honest, it would not be a thing of a surprise if Zion decided to go into a defensive lineup of an NFL team. Judging by his New Orleans games, he could certainly be a success in NFL.
We hope to see this beast mode of Zion in full power from the next season. Till then be aware, NBA.
ADVERTISEMENT
Article continues below this ad