"A Lot of Barking": Former NBA champion Hits Out on LA Clippers after Blow out Loss to Denver Nuggets
Published 09/16/2020, 11:00 AM EDT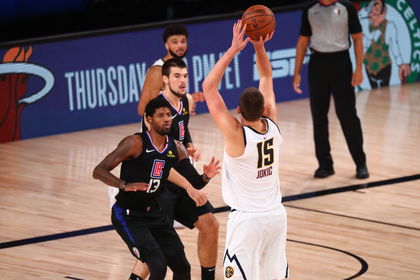 ---
---
What a tremendous sight, watching an underdog team beat the title favorites so ruthlessly. The Denver Nuggets haven't given the Clippers a chance to breathe throughout. Denver was led by their dynamic duo, Jamal Murray and Nikola Jokic, and the Clippers have been looking out of place from the second half onwards in almost every game.
ADVERTISEMENT
Article continues below this ad
There is no other team that has recovered from a 3-1 deficit in two consecutive series, and now they will enter their first conference finals since 2009.
Hard to digest the reality of the Clippers loss
ADVERTISEMENT
Article continues below this ad
There is nobody who isn't talking about the greatest upset the Nuggets have ever pulled. On top of which, at one of the most crucial turns in the NBA Playoffs. However, it is still upsetting to see a great team like the Clippers walking out of the Playoffs run like this.
In an interview with ESPN, Former NBA player and Analyst Kendrick Perkins was asked, "What is your initial thought on the Clippers blowing a 3-1 lead in this series, including two games that they had huge chances. A 19 point lead, a 16 point lead, what is your number one thought?"
Perkins harshly replied, "They're the biggest front-runners in NBA history. When everything is going well grainy, you hear them hooping and howling and pounding their chests at their children and wives that are in the stands and the virtual fans. But when things get close, oh man, you could smell it, you could see it. Their heart stopped pumping kool-aid."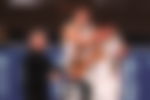 No excuse is acceptable for the way they played against the Nuggets
Perkins described their shortcomings and why the Nuggets overpowered them. He said, "I'm looking at this Clipper team, man! They couldn't guard a senior citizen at recess in a nursing home. They were horrible on the defensive end. The Denver nuggets flat out out-played them. They had the ultimate confidence. This is one of the greatest upsets in NBA history."
He refused to listen to any excuses. "There is no way around it. I don't want to hear anything about chemistry problems," said Perkins. "They do a lot of barking and no biting."
ADVERTISEMENT
Article continues below this ad
Well, it looks like Perkins might be right. They had the best wing defenders on their side, who failed to perform. The Nuggets are going to be facing the purple and the gold in the Western Conference Finals.
Do you think they will continue their underdog streak? Or will they get intimidated by the Lakers instead?
https://youtu.be/-eu419v5w-M?t=181
ADVERTISEMENT
Article continues below this ad