"A Playboy Model Would Show Up At Your Door…": Ex-Player Reveals the Distractions Created by the Chicagoans to Help Michael Jordan and Team
Published 05/16/2020, 4:30 PM EDT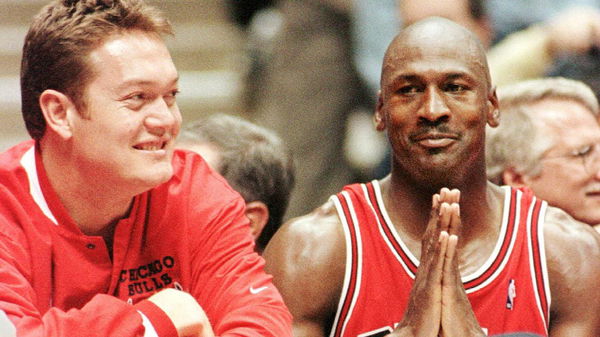 ---
---
Meeting Michael Jordan in the NBA Finals was a scare of its own kind, especially considering the opponents who faced him in the dying stages of his Bulls career. His superlative record in the finals make any competitor bow their head in respect. 
ADVERTISEMENT
Article continues below this ad
In the Bulls' quest for their second three-peat, they met the Utah Jazz twice in the finals. The 1997 and 1998 finals matches were almost similar in terms of the final result. ESPN writer David Fleming's piece earlier this week covered former Jazz player Antoine Carr's amusing stories about their away games in Chicago.
The city of Chicago wanted to contribute in their team's hunt for victory. So, they attempted to distract their rival players with odd methods. "One thing I did enjoy about playing the Bulls that was different was the city of Chicago was always trying to do something too," said Carr. "You'd be in your hotel room the night before a Finals game in Chicago and all of a sudden a Playboy model would show up at your door with a cake. That happened to me more than once."
ADVERTISEMENT
Article continues below this ad
"They show up in a trench coat, and when they get to present you with your cake, the coat comes off, and it's 'Welcome to Chicago!'
"But if you're a young man and all you can think of the night before the Finals is a beautiful girl now, that's going to throw you all the way off. It didn't work on me. It was good cake, though."
ADVERTISEMENT
Article continues below this ad
Michael Jordan vs the Utah Jazz in the NBA Finals
In his final two seasons with the Bulls, the Jumpman broke loose and went crazy with his game. His ability to step up in big games never seemed to recede. In the 1997 NBA Finals, MJ averaged 32.3 points in six games, as the Bulls triumphed 4-2. No other player crossed an average of 24 points in the series, which shows Jordan's sheer dominance.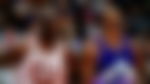 ADVERTISEMENT
Article continues below this ad
The following year was an accurate repeat. Same opponent and a similar outcome. Champions indeed. The Bulls completed their double three-peat glory, riding on the back of MJ's supreme quality. Jordan averaged 33.5 points in what would be his last playoff series. As he was crowned the Finals MVP for the sixth time in his career, it was clear that there was nobody like him. 
The dominance of 'His Airness' in the playoffs is unparalleled. He had the highest level of talent to dominate and win a title at each of his six attempts in the Finals. The Bulls truly were lucky to have a player like MJ who helped the NBA scale millions of fans worldwide.