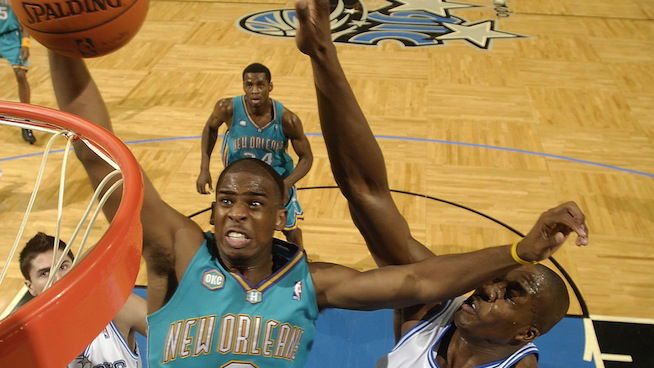 It is always great to see when a guard just over 6 feet tall dunks over a center who is almost 7 feet. Thus, it is not surprising to see Chris Paul fondly remembering his dunk over Dwight Howard.
In his second year in the NBA, Paul made everyone notice him with his dunk over Howard. Paul, the fourth overall pick in the 2005 NBA Draft, made the dunk in 2006 while playing against Orlando Magic. Howard was also relatively young into his NBA career. He was the first overall pick in 2004 and was in his third year in the league.
In a recent appearance on the Knuckleheads podcast with Quentin Richardson and Darius Miles, Paul admitted he himself was surprised with the dunk.

"I sort of surprised myself, to tell you the truth," said Paul. "I split the screen right to the middle. If you see, it's a weird dunk because I used to dunk one-handed back then, but I was scared because I felt this body. So I actually dunked, and I tried to grab with two hands."
As we proceed…We had the Point God @cp3 chop it up with us Knuckleheads and we just about covered it all! Here we talk about when he threw down a dunk over Dwight Howard. Ep is live now and available tomorrow on @youtube. @playerstribune in partnership with @att 5G ✊🏾😎✊🏾 pic.twitter.com/MFZITqmqLH

— Quentin Richardson (@QRich) June 30, 2020
Chris Paul continues to lead his team at the age of 35
After joining New Orleans in 2005, Paul played for them till 2005. He then joined Los Angeles Clippers and rose as one of the best guards in the league. After playing six years for the Clippers, he joined Houston Rockets. During his session with Quentin Richardson and Darius Miles, he also talked about why his Rockets move made sense.
Paul is currently playing for Oklahoma City Thunder and continues to rack up performances at the age of 35. When the Thunder traded Russell Westbrook last summer, very few believed they would be competitive in the league. But Paul managed to lead the Thunder to a decent record. Prior to the league's suspension, they were fifth in a tight Western Conference with 40 wins in 64 games.