"After That He Didn't Bother Me": Ex-Teammate on How He Silenced Bully Michael Jordan
Published 05/20/2020, 2:04 AM EDT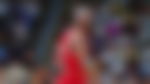 ---
---
Even after Michael Jordan delivered that emotional monologue in 'The Last Dance,' people still have been questioning his leadership skills. While there is no reason to dig into the past, a few NBA legends who've played alongside the Jumpman always take the time to recollect their experience. 
ADVERTISEMENT
Article continues below this ad
The Boston Celtics in the 80s were extremely dominant. Led by Larry Bird, the team won three championships in the decade and earned their supreme status. The Celtics' big three at the time comprised Larry Bird, Robert Parish, and Kevin McHale. Robert Parish was a machine. He could endure anything thrown at him and just keep going. 
Parish played his final year in the NBA with the Chicago Bulls. His ultimate bow in the league came along with an NBA championship. Apart from that, he played alongside the superstar of that era, Michael Jordan. But by that point, Parish was a legend himself. He never found the spark in himself when he moved to Chicago to play with MJ. In fact, Parish realized the utmost value of Larry Bird only when he experienced the leadership of 'His Airness.'
ADVERTISEMENT
Article continues below this ad
How Robert Parish stepped up against Michael Jordan
Upon finishing his two-year stint with the Charlotte Hornets, 'The Chief' moved to the city of Chicago to close his NBA chapter. The Bulls had already won on MJ's comeback, and Parish joined the team in 1996 as an aging veteran. 
Naturally, one can assume how MJ would react to training fails on the court. He is a man who does not hold back any words, even if you're Robert Parish. While Parish was a senior to him, Jordan wanted to make his thoughts known to the former Celtics center. 
ADVERTISEMENT
Article continues below this ad
Speaking about his experience playing with the Bulls, Parish reminisced about Bird's leadership strengths to ESPN's Jackie MacMullan. "What set Larry apart from Magic and Jordan was he wasn't an in-your-face leader like they were," Parish said. "He had too much respect for us. If you weren't having a good night, he was more inclined to encourage you, or not say anything at all. But Magic and Jordan would jump all over you.
The Hall of Famer remembered a training incident that he claims shut MJ up from messing with him. When Parish botched a training routine, Michael Jordan came close to him and vocally made it clear that he wanted none of it again. 
"I told him, 'I'm not as enamored with you as these other guys. I've got some rings too,'" Parish recalled. "At that point he told me, 'I'm going to kick your ass.' I took one step closer and said, 'No, you really aren't.' After that he didn't bother me."
ADVERTISEMENT
Article continues below this ad
While Parish won a title to execute a spectacular exit to his twenty-one year career, his stint with the Bulls was far less than satisfactory, ever in his mind. His age had caught up with him and he was not the dominant defender on the team anymore.