'All Of That Sh** Talking': LeBron James Takes a Dig at LA Clippers
Published 12/08/2020, 11:50 AM EST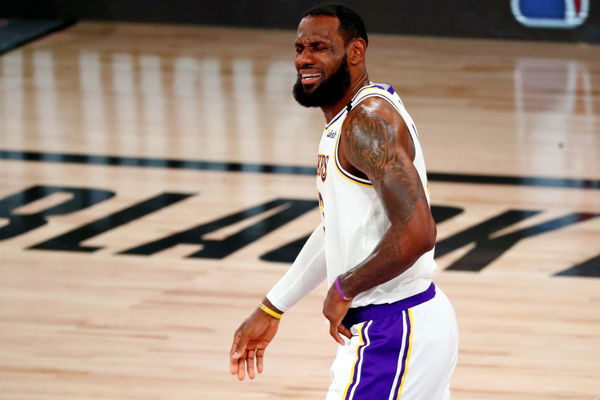 ---
---
It has been months since the LA Clippers suffered defeat against the Denver Nuggets, but LeBron James has reignited talks about the LA-based team's humiliation. In fact, LeBron himself has some strong words for the Clippers after watching them choke in the 2020 playoffs. 
ADVERTISEMENT
Article continues below this ad
LA fans dreamed of an epic clash between the city rivals, but it sadly never happened. What would've been a historic conference finals clash was taken away from Kawhi Leonard and co. by the brilliance of Nikola Jokic and Jamal Murray. 
ADVERTISEMENT
Article continues below this ad
An All-LA conference finals was on cards before the 2020 season even began. The Clippers bolstered their attack with superstar signings and it even had the Lakers waiting in anticipation. 
Everything was shattered after the Clippers blew a 3-1 lead. LeBron had massive faith in the Clips even during their sloppy losses which led to the decider. "Everyone was already counting their eggs and throwing them in a basket," LeBron said on the Road Trippin' podcast. 
"Even with what happened in-game you know five and game six like we were still preparing for the Clippers," the 4x MVP mentioned. 
LeBron James throws shady talk at LA Clippers
Well just like everyone, LeBron James too expected the LA Clippers to live up to their hype. Their fans went berserk after the team signed both Kawhi Leonard and Paul George. But the duo weren't there when their team needed them the most. 
LeBron's a witness of all the hype the Clippers were receiving during the season and ahead of the playoffs. He noticed a few loudmouths in their team and fired shots at them, but respectfully excluded Leonard and George out of the conversation. 
"All of that sh**-talking they were doing… and they put themselves in a position to get what they've been talking about all year. I just couldn't I couldn't fathom the part that they did not seek that opportunity when it was right there yeah up 3-1.
ADVERTISEMENT
Article continues below this ad
"I just did not see them losing just like everybody else in the basketball sports world did not see them losing," LeBron added. 
King James mentioned that the team was "built for that" but they failed to close out a series that was there for the taking. In the end, the pressure mounted on the team, and the players failed to deliver.
ADVERTISEMENT
Article continues below this ad
As a result, a few changes took place in the organization. Doc Rivers was fired as the head coach, after which the Clippers made their moves during the offseason.