Amid Ongoing Protest, Los Angeles Lakers Star Shares Another Instance of Police Brutality
Published 06/04/2020, 10:02 AM EDT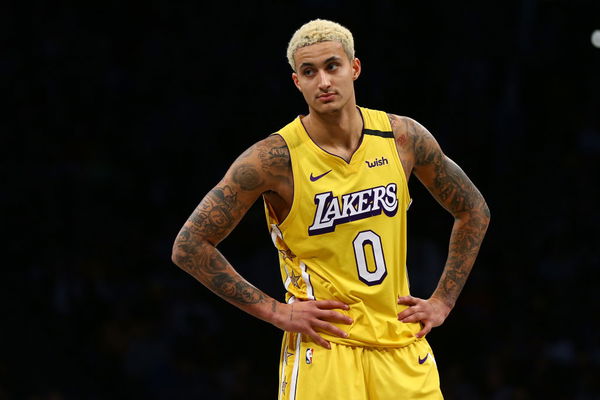 ---
---
Louisville Police fatally shot Breonna Taylor back in March. It is June now, and she still hasn't got justice. The officers involved with the shooting are yet to be arrested. Moreover, they are still on their 'administrative leave'. Los Angeles Lakers star Kyle Kuzma brought this incident up again, reminding people about the miscarriage of injustice.
ADVERTISEMENT
Article continues below this ad
On 21st March, three police officers entered Taylor's apartment forcefully, to conduct a narcotics investigation. Taylor's boyfriend, Kenneth Walker, fired at the plainclothes policemen, thinking they were intruders. Police returned fire, shooting Breonna eight times. However, the officers evaded arrests. Instead, the police arrested Walker for attempted murder. Then on May 27, they dropped all charges.
Kuzma tweeted, "We must continue to hold THE SYSTEM accountable for this murder. It's easy to believe that an African-American would have drugs in their home, based on how America has given the stereotype to our people."
ADVERTISEMENT
Article continues below this ad
Justice for #BreonaTaylor. shot and killed in her own apartment. Police, in search of drugs (no-notice warrant) rushed in and shot her 8 times. No drugs were found in such raid. Judge ordered warrant because it was believed that her boyfriend received packages at the address.

— kuz (@kylekuzma) June 4, 2020
Los Angeles Lakers star Kuzma continues to fight for justice through social media
In a series of three tweets, Kuzma called out law enforcement in the country.
America funds police departments across our country billions upon billions of dollars per year. with us living in the golden era of technology all officers are not required to wear body cameras? 🤔🧐 #BreonnaTaylor

— kuz (@kylekuzma) June 4, 2020
He has continuously been tweeting regarding the protests for justice. He has also been advising to show their urge for a change through voting.


Continue the peaceful protest!! but remember.. educate yourself on how to make positive change in politics. If your state is up for voting… VOTE!!! That's change. Especially African-Americans. WE MUST VOTE✊🏽

— kuz (@kylekuzma) June 3, 2020
ADVERTISEMENT
Article continues below this ad
However, his most impactful tweet was calling out fake followers.


If you lose followers/friends/customers/clients by supporting this movement then you had shitty followers/friends/customers/clients in the first place.

— kuz (@kylekuzma) June 3, 2020
ADVERTISEMENT
Article continues below this ad
Kuzma upset several of his followers because of his political stand against injustice and racism in the country. Moreover, he has been one of the many NBA players voicing out their opinion. They refuse to stay quiet. And they are not afraid to call out even the biggest institutions in the country.
After more than a week, all the police officers involved in George Floyd's alleged homicide have been arrested. While Derek Chauvin has been charged with second-degree murder. Additionally, the other three face charges of aiding and abetting in the death of an unarmed man.