Amid Rising Fear, Nets' Player Kevin Durant Tests Positive for Coronavirus
Published 03/17/2020, 7:28 PM EDT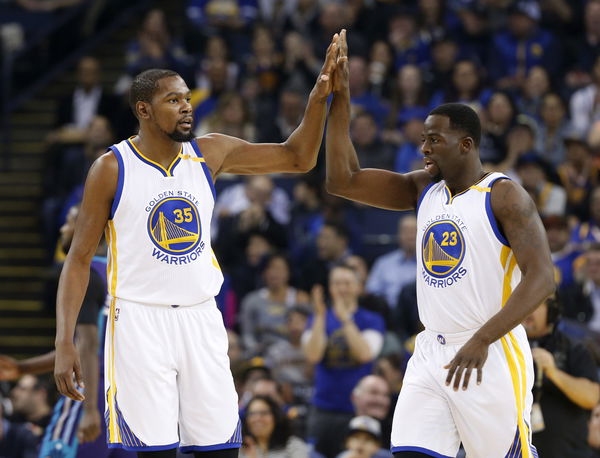 ---
---
Coronavirus aka COVID-19 has grabbed the centre of attention across all domains. It has disrupted far too many lives, led to isolation and quarantine of entire cities and cancellation of almost all major sporting events across the globe. NBA, much like everyone else, announced that it is suspending its season on 12th March after Rudy Gobert was tested positive for the said virus. After Robert's Utah Jazz teammate Donovan Mitchell and Detroit Piston's forward Christian Wood, Kevin Durant, along with four other Brooklyn Nets players joins the infamous list of infected NBA players.
ADVERTISEMENT
Article continues below this ad
"Everyone be careful, take care of yourself and quarantine," Kevin Durant was quoted saying to Shams Charania of Stadium and The Athletic.. "We're going to get through this." Despite being tested positive, only one of Durant's teammates actually showcased any symptoms. The Nets soon released a media statement announcing the same. The assured that the health of its staff was their highest priority and the team is taking upon themselves to ensure that those affected get the best care possible.
This hasn't been the best of seasons for Durant or his team. He's been inactive the whole season recovering from the ruptured tendon that he suffered in the NBA finals in June. Brooklyn Nets haven't been in any comfortable position themselves, currently standing at 7th position on the Eastern Conference table.
ADVERTISEMENT
Article continues below this ad
Coronavirus and NBA
These are troubling times for any franchise having asked their players to remain in isolation. Players are coming forward donating to help the people who's lives are affected by this suspension. Although the NBA commissioner said that we might be able to return within a month, at the current level it looks more and more unlikely. Putting its players and fans at risk is not something that any team would want.
Although initially discussed about the idea of playing behind closed doors, players like Lebron James completely refuted the idea and instead called for a suspension. It indeed is a bit tough to imagine NBA being played without its fans, in absolute empty and silent stadiums.
The players are also getting tested in these challenging times. Many resort to social media to connect with their fans, while some are still figuring out what to do with so much time at their hands. And then there's Stephen Curry, who is putting the best use of his time by watching his own highlights on the internet.