An Insight Into James Harden's Infamous 2018 MVP Speech and His Dig at the NBA Awards
Published 11/08/2020, 1:00 PM EST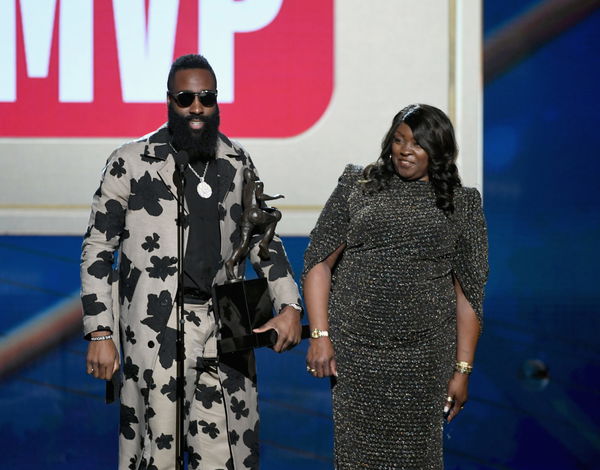 ---
---
As most people put it, James Harden rightfully won the 2017-18 MVP award on the back of the sensational season with the Houston Rockets. 'The Beard' graced the occasion with a flashy suit to accept the award and then made a rather controversial statement. What was it about? 
ADVERTISEMENT
Article continues below this ad
Before we dive into that, let us take a quick look at how Harden performed in 2018. He finished the regular season with a monstrous scoring average of 30.4 points per game to win his first scoring title. Furthermore, he led the Houston Rockets to their best-ever record by registering a 65-win season, a feat that no other player had achieved in franchise history. 
ADVERTISEMENT
Article continues below this ad
Even the great Hakeem Olajuwon and his back-to-back Rockets team could not post a 65-win season, but Harden did. His offensive arsenal proved too hot to handle for the league, as he eased his way to the top of the MVP voting. 
He became just the fourth NBA player to average 30 PPG on a 65-win team, and all of them ended up becoming the MVP. However, in Harden's case, he felt he deserved the award a year early. 
James Harden took a direct snub at the league during his acceptance speech
NBA Commissioner Adam Silver sported a bright smile as he entered the stage to conclude the 2017/18 NBA awards. Only one award was left, and it was the MVP. Of course, without a doubt, fans knew that 'The Beard' was winning it this time. The wait was finally over. 
Harden had finished second on two occasions before his 2018 victory. Thus one can ever say he felt vindicated by receiving the award. Besides feeling it, James Harden put it into words as to what was on his mind. 
After being bestowed with the 'Maurice Podoloff Trophy,' Harden, who was on stage with his mother, thanked everyone who tagged along with him on the journey and the ones who continued to do so. Family, friends, teammates, coaches, and everyone entered the list. 
Then, he uttered a statement that depicts the amount of growth we've seen in Harden as a player. "Sixth Man of the Year to MVP," he said, going back to 2012, where he won his first individual award.
Harden kept his speech short, but he threw in a controversial statement at the end. "You know, I felt like last year I should have won as well, so I didn't see a difference between last year and this year," he mentioned. 
To put things into retrospect, Harden finished second to former teammate Russell Westbrook in the 2017 MVP voting, an award he claimed he should've won.
The 2017 MVP debate: Who deserved it more? 
Russell Westbrook grabbed his first MVP award in 2017. Brodie showcased his incredible talents in a monumental season that saw him break several records. For starters, he averaged a triple-double for the entire season, an incredible record matching Oscar Robertson's long-standing feat. 
ADVERTISEMENT
Article continues below this ad
Moreover, he posted 42 triple-doubles during the regular-season whilst averaging 31.6 PPG, 10.7 RPG, and 10.4 APG. However, as a team, the Thunder only finished sixth in their conference and only posted 47 wins in their 82 games. 
On the other hand, James Harden's scoring averaged dropped a tad low than Westbrook's at 29.1 PPG. However, Harden carried the Rockets to a 55-win season and finished third in the Western Conference. The Rockets also had the second-best offensive rating that season, thanks to Harden's heroics. 
At the end of the day, it all lands on each person's opinion. Russell Westbrook undeniably put up one of the greatest individual performances ever during the 2016/17 season. He matched an incredible record, and it certainly would've been a robbery if he was deprived of the MVP.
ADVERTISEMENT
Article continues below this ad
There have been controversial MVP awards in the past. Thus, it wasn't surprising when Harden claimed he was snubbed of it in 2017. A lot of players have been on the sour end of it, even when they truly deserved to win it.