Anthony Davis vs. Nikola Jokic: The Battle for Supremacy Between Two Giants
Published 09/20/2020, 1:42 PM EDT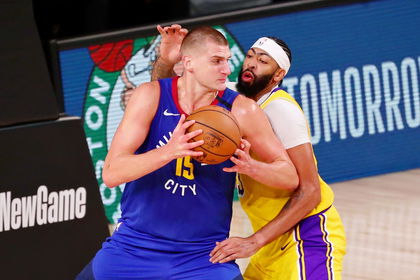 ---
---
The 2019/20 NBA season has boiled down all the way till the conference finals. Looking at the West, we have the Denver Nuggets against the Los Angeles Lakers. It is a battle between the #1 seed and the #3 seed, but it hasn't been a straightforward run for the Nuggets. Moreover, this series will treat us to a mighty duel between two towering athletes in Anthony Davis and Nikola Jokic! 
ADVERTISEMENT
Article continues below this ad
On one hand, you have Anthony Davis, who joined the Lakers in the 2019 offseason. Much to his delight, his team are the favorites to lift the championship this year. Moreover, AD hasn't disappointed either, in his first season suiting up for the purple and gold.
ADVERTISEMENT
Article continues below this ad
Davis' 26/9/3 regular-season average is one of the best starts a Laker has ever had. Amid all the overwhelming expectations, Anthony Davis has been able to deliver and live up to his hype. But for him to make the conference finals, the 27-year-old needs to get past the raw force that is Nikola Jokic. 
The seven-foot Serbian is inking his name as one of the best centers to ever grace the league. Now if one thinks that this is a stretch too far, Jokic's recent performances make it hard to not dub him as the best big man in the league currently. But who will excel in the WCF to guide their team to the grandest stage in the association? 
Anthony Davis vs. Nikola Jokic: Two jaw-dropping athletes face each other for a place in the NBA finals
Even though LeBron's the most explosive player on the team, it has been Davis whose been the Lakers' savior in the playoffs. The former Pelicans star stepped up when it mattered and is on a mammoth playoff run. 
While the Lakers played 11 games en route the WCF, the Nuggets had to play more. They survived two Game 7s, which is entirely a new piece of history.  Even though Jamal Murray has been hot with his shooting, Jokic has been a rock on both ends of the court.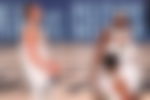 So, if one can try rating the impact that these two players bring to the court, there would be three main aspects: Defense, Passing, and Shooting. Let us explore the first one, an aspect that wins you games. 
Defense
When it comes to defense, AD and Jokic are two of the best in the league. Using their height as an advantage, both stars can be terrific blockers and rebounders. Moreover, AD has excelled in this category as he led the league in blocks on two different occasions (2015 and 2018).
If you take a look at this season, Anthony Davis by far has been the more reliable defender than Jokic. His blocking and defensive rating might back this claim up that Davis is the better defender. Moreover, the fact the AD is more agile than Jokic gives him an edge when it comes to guarding tough opponents. 
Even in Game 1, Davis made some slick moves against Jokic, who was unable to cope with the pace generated by the Lakers star. Jokic's defense is not shabby, but Davis is clearly a better defender than the Serbian. 
Passing
The 2020 NBA Playoffs has been a proving ground for Jokic to assert his passing skills. One might think that Davis is one of the smoothest bigs ever, and they're not wrong. Likewise, Jokic holds a strong place in that regard too. 
Nikola's passing vision is something that a lot of players lack. He's extremely talented and can pass on any given occasion. Be it in transition, or in a stationary position, he has the knack to find his guy with a quick throw over the court. 
On the other hand, AD is no short of a great passer too. The 6'10" forward is a complete player, and has a flair for making extraordinary passes on the court. However, Nikola Jokic stands out in this aspect, and his 7.0 APG in the regular season just proves how good he is when it comes to picking his pass. 
Shooting
This aspect of a player's game is immensely important. Both Davis and Jokic are paint dominators and can destroy their opponents by muscling defenders at the rim. If you take away that ability, where do they stand? 
Well, the game has evolved a lot since the 80s and the 90s, and we're in a new era. Everyone can shoot 3s. AD and Jokic are masters of it. Moreover, their shooting variations leave defenders puzzled and they struggle to mark them on the court. 
Both players favor shooting from the restricted area heavily, and that doesn't come as a surprise. Jokic has a better efficiency in these situations, but Davis is more versatile. Though Jokic has a better regular-season FG% average, AD is the better three-point shooter. 
Of course, we've seen Jokic shoot Dirk Nowitzki like one-legged fadeaway's, but how often does he do that? It comes down to reliability, and Davis is clearly the better mid-range and three-point shooter. 
So who's the better player?
ADVERTISEMENT
Article continues below this ad
Well, there's different schools of thought. A Nugget fan might heavily disagree that AD is better than Jokic and vice versa. However, the stats don't lie. In this case, the point has to be given in Davis' favor.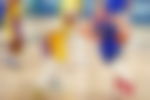 However, we'll still be treated to an epic clash between these two giants. We're just one game down in the 2020 WCF, and knowing the Nuggets, they will undoubtedly clinch one game. But it shouldn't come too late, because the Lakers aren't looking for any rest in between. 
ADVERTISEMENT
Article continues below this ad
They're hungrier than ever in this postseason, marching their way to the finals. Anthony Davis is putting up one of the best playoff performances in history, and his current 28.5 PPG and 10.8 RPG average paints a happy picture indeed. Moreover, it should be noted that among the active players in the playoffs, Davis is the leader in scoring and blocks!