"Ask Your Momma": Shaquille O'Neal Slams Twitter Troll Criticizing His Free Throw Shooting
Published 05/20/2020, 4:24 AM EDT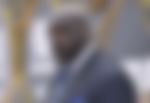 ---
---
One thing that Shaquille O'Neal wasn't particularly good at in Basketball was free throw shooting. His career numbers show a free throw shooting percentage of 52.7 % which is far from convincing.
ADVERTISEMENT
Article continues below this ad
Replying to a twitter post showing O'Neal's poster dunks, a random twitter user tweeted: "Only thing that could stop him was the free throw line." Shaq didn't take kindly to the tweet as he replied: "Free throws didn't stop me in the finals ask your momma I left her tickets," he tweeted.
Shaquille O'Neal could never get his free throw shooting percentage high
ADVERTISEMENT
Article continues below this ad
O'Neal might have had a great career, but his shooting from the line will always remain as something that wasn't up to the mark by his standards. In an interview a few years back, Shaq admitted he didn't know the reason for his free throw low shooting percentage.
"I tried to make 200 a day," he said. "And then when I got really big time and was able to build gyms in my house, I shot all the time. But there's a difference between playing craps at your house with your boys and going to Mr. Cordish's casino and playing craps. When I'm by myself I shoot like Steve Kerr. But it's just something about when I'm in a game, there's pressure, I just tighten up."
ADVERTISEMENT
Article continues below this ad
In spite of his efforts, the best free throw shooting season for Shaq, which came in 2002-03, had just 62% of his shots going in.
However, it did not stop him from establishing himself as one of the best players in the game. O'Neal played 18 years in the NBA winning four titles. When he won the famous three-peat teaming up with Kobe Bryant at Los Angeles Lakers, he was the Finals MVP in all of the three seasons. He has 15 All-Star selections to his name over his 18-year career and 14 All-NBA team selections.
ADVERTISEMENT
Article continues below this ad
A member of the Naismith Basketball Hall of Fame, Shaq is often regarded among the best players to have played in the NBA. He is also one of the first names that come up while talking about top centers in the game.