Atlanta Hawks' 2020-21 NBA Schedule: Important Fixtures Against Nets, Suns and More
Published 12/07/2020, 6:18 AM CST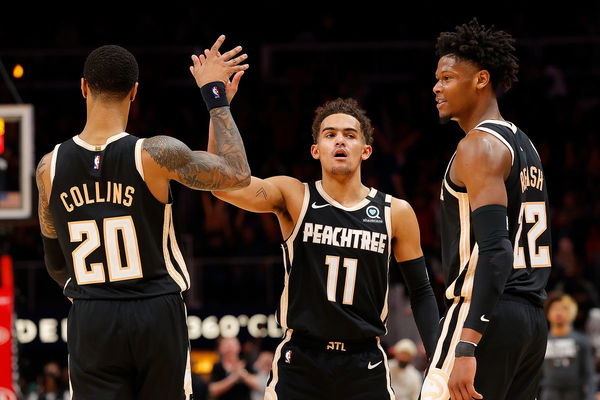 ---
---
The Atlanta Hawks have been busy this off season. Owing to the complications that may arrive due to COVID-19, the NBA has released the first half of the schedule.
ADVERTISEMENT
Article continues below this ad
The Atlanta Hawks had a disappointing season last season. Their star Trae Young was amazing averaging 29.6 points, 9.3 assists and 4.3 rebounds. Apart from him, some young players like Cam Reddish and Kevin Huerter had some decent performances.
ADVERTISEMENT
Article continues below this ad
Coming into this season, the front office has added some quality players in Rajon Rondo, Bogdan Bogdanovic and Danilo Gallinari from the free agency. They have also added Onyeka Okongwu, who will challenge Clint Capela for the center position.
The Hawks start their season with two successive games on the road. They start their campaign against the Chicago Bulls. The much improved roster of Hawks will hope to secure the win against the Bulls, who have been relatively quiet this off season.
They have four games in their entire first half of the season, which will be broadcasted on ABC, ESPN, etc. The Hawks will be hopeful that their signings can elevate the team's quality significantly and propel them to a playoff team this season.
Key Games
Atlanta Hawks vs Brooklyn Nets- Dec 30th, 7:30 PM
The Hawks go into a double header against Kevin Durant and Kyrie Irving led Brooklyn Nets. This will be the very first time Durant and Irving will be seen together on the court. This isn't a matchup by any means.
Now that Trae Young has some much needed help in scoring because of additions like Gallinari and Bogdanovic, there is no doubt that they are a threat in the offense. If their offense can click, they can surely give some troubles to the Nets. The Hawks might be able to sneak one win against the Nets.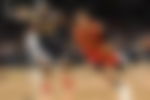 Atlanta Hawks vs Phoenix Suns- 13th Jan, 9:00 PM
This is one of the most even matchups of this season. Fans will see two young superstars in Devin Booker and Trae Young and two of the best veteran guards in Chris Paul and Rajon Rondo battle it out with each other.
The Suns had a very good end to their season last season with an eight win streak and given the players they have added, they are slightly favored in this fixture. It will be very interesting to see who wins this game.
Atlanta Hawks vs LA Clippers- 26th Jan, 7:30 PM
Kawhi Leonard and Paul George led LA Clippers have a point to prove this season. Last season, they were the favorites to win the championship but were defeated by comeback kings, the Denver Nuggets.
This season, they have brought in an experienced big man in Serge Ibaka and a backup point guard in Luke Kennard. They were reportedly interested in signing Rajon Rondo but could not convince the star to join them.
ADVERTISEMENT
Article continues below this ad
The Clippers might be the favorite to win this, but Lloyd Pierce might have a trick or two up his sleeve against them.
Hawks' Partial Schedule for the 2021 season
Dec 11 (7:00 pm ET)

Home

Orlando Magic

(Pre-season)

Jan 26 (7:30 pm ET)

Home

Dec 13 (5:00 pm ET)

Home

Orlando Magic

(Pre-season)

Jan 27 (7:30 pm ET)

Home

Brooklyn Nets

Dec 17 (8:00 pm ET)

Away

Memphis Grizzlies

(Pre-season)

Jan 29 (7:00 pm ET)

Away

Washington Wizards

Dec 19 (8:00 pm ET)

Away

Memphis Grizzlies

(Pre-season)

Feb 1 (7:30 pm ET)

Home

Dec 23 (8:00 pm ET)

Away

Chicago Bulls

Feb 3 (7:30 pm ET)

Home

Dallas Mavericks 

Dec 26 (5:00 pm ET)

Away

Memphis Grizzlies 

Feb 4 (7:30 pm ET)

Home

Utah Jazz

Dec 28 (7:30 pm ET)

Home

Detroit Pistons

Feb 6 (7:00 pm ET)

Home

Toronto Raptors

Dec 30 (7:30 pm ET)

Away

Brooklyn Nets

Feb 10 (7:30 pm ET)

Away

Jan 1 (7:30 pm ET)

Away

Brooklyn Nets

Feb 12 (7:30 pm ET)

Home

San Antonio Spurs 

Jan 2 (7:30 pm ET)

Home

Cleveland Cavaliers

Feb 13 (7:30 pm ET)

Home

Indiana Pacers 

Jan 4 (7:30 pm ET)

Home

New York Knicks 

Feb 15 (7:30 pm ET)

Away

New York Knicks

Jan 6 (7:30 pm ET)

Home

Charlotte Hornets 

Feb 17 (7:30 pm ET)

Away

Jan 9 (7:00 pm ET)

Away

Charlotte Hornets

Feb 19 (7:30 pm ET)

Away

Boston Celtics 

Jan 11 (7:30 pm ET)

Home

Philadelphia 76ers

Feb 21 (7:30 pm ET)

Home

Denver Nuggets 

Jan 13 (9:00 pm ET)

Away

Phoenix Suns 

Feb 23 (7:00 pm ET)

Away

Cleveland Cavaliers

Jan 15 (9:00 pm ET)

Away

Utah Jazz

Feb 24 (7:30 pm ET)

Home

Boston Celtics

Jan 16 (10:00 pm ET)

Away

Portland Trail blazers 

Feb 26 (8:00 pm ET)

Away

Oklahoma City Thunder

Jan 18 (2:30 pm ET)

Home

Minnesota Timberwolves

Feb 28 (6:00 pm ET)

Away

Jan 20 (8:00 pm ET)

Home

Detroit Pistons

 March 2 (7:30 pm ET)

Away

Miami Heat

Jan 22 (8:00 pm ET)

Away

Minnesota Timberwolves

 March 3 (7:00 pm ET)

Away

Orlando Magic

Jan 24 (7:30 pm ET)

Away

Milwaukee Bucks
ADVERTISEMENT
Article continues below this ad