Ayesha & Stephen Curry Vow to Feed Oakland District Kids, Ask for Support
Published 03/14/2020, 11:15 AM EDT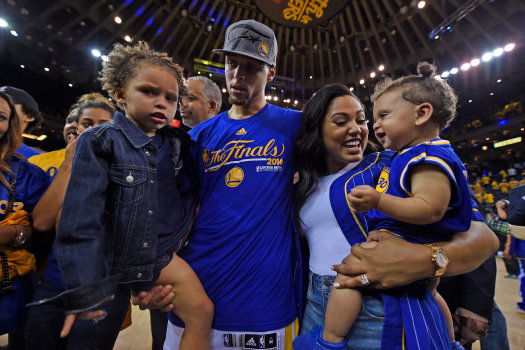 ---
---
The coronavirus pandemic has affected all people alike. With most of the offices, schools and large gatherings now suspended or postponed- the most severe toll has been on parents and children who depend on schools for the food(2-time meals). To tackle this grave crisis Golden State Warriors superstar Stephen Curry with his wife Ayesha Curry released a video asking fans to join in support for the kids who rely on receiving meals from their schools. This noble act by two time MVP covers all students from Oakland Unified School District which was declared closed on Friday.
ADVERTISEMENT
Article continues below this ad
Stephen mentioned in his tweet that there are over 18,000 students within the Oakland Unified School District that rely on their school for at least two meals per day. With school now closed for an indefinite time, there is a colossal void to fill which Steph & Ayesha are trying to do.
The video posted on Twitter called for donations to the Alameda County Community Food Bank. Steph is using his foundation i.e Eat, Learn, Play to donate 'Food Bank' the money.
ADVERTISEMENT
Article continues below this ad
Stephen Curry and Ayesha Curry calls for help
"The statistics are really staggering: 18,000 kids rely on at least two meals a day from the school system. So we want to make sure that we rally around everyone and ensure that these kids are not wondering where their next meal is coming from, and that the parents who — some are still having to go to work, worrying about the kids' logistics — we just want to make sure that there's one less thing to worry about," Ayesha said in the video
ADVERTISEMENT
Article continues below this ad
Currys did not reveal how much they will be donating to this cause. But they sure will be contributing confirmed Steph. According to the donating page, the goal of this philanthropy is to generate almost 1 million meals for the students. If you want to donate to this fund, here is the link.
Before this act from Stephen other NBA Stars including Kevin Love, Giannis Antetokounmpo, and Griffin also confirmed that they will donate $100,000 to their respective arena's workers. Zion Williamson also pledged to cover arena staff wages through March. Earlier in the day, Steph's own team Golden State Warriors has already declared that their owners, players, and coaches will make a donation of $1 million to aid arena employees. This announcement by San Fransico based team also included the creation of a Disaster Relief fund.
ADVERTISEMENT
Article continues below this ad