Allen Iverson's Recollection of NBA All Star Weekend with Kobe Bryant Will Leave You Both Sad & Happy
Published 03/02/2021, 10:22 PM EST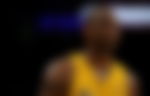 ---
---
Along with a multitude of stars, the 1996 NBA Draft gave the league a blazing rivalry. #1 pick Allen Iverson and #13 pick Kobe Bryant, the best players from the class, gave fans some of the best battles during the early 2000s. But this rivalry was restricted to the court only. Off the court, they shared a close relationship.
ADVERTISEMENT
Article continues below this ad
After Kobe passed away, Iverson wrote a letter addressed to him. It was published in the Players Tribune on 8/24 last year, a day that is also celebrated as Mamba Day.
With the 2021 All-Star Week approaching, BasketballNews.com shared a video of Iverson talking about Kobe during the 2020 All-Star break. When asked about which player he enjoyed seeing at the All-Star game, Iverson had only one player in mind. Trying his best to hold back his tears, Iverson recalled the only time he got to play alongside Kobe.
ADVERTISEMENT
Article continues below this ad
Allen Iverson recalls spending time with Kobe at All-Star weekend… has a funny story to tell too 😂pic.twitter.com/hdCBhyDNRZ

— BasketballNews.com (@basketbllnews) March 2, 2021
"Looking back, that was it… Just having the chance to play with my guy. Not knowing that that would be the only time I had a chance to play with him," Iverson said.
Iverson played in the Western Conference with the Nuggets following a trade, and he also had a three-game stint with the Grizzlies. But the only time he played alongside Kobe was at the 2008 All-Star game. Sadly, it didn't go as expected, since Bryant was injured and played just three minutes.
But those three minutes hold so much value to Iverson, that they brought him to tears as he looked back at that game.
Allen Iverson shares the most typical Kobe Bryant story
During his career, Iverson spent a lot of time partying. He reportedly partied for a whopping 72 hours straight before the 2001 All-Star game. So when Kobe took AI out in LA, Iverson wanted to visit the clubs there. He asked Kobe to accompany him, but the Lakers legend had other plans.
"He took me out to eat in LA," Iverson said. "I told him I was going to the club, and he told me he was going to the gym… That was the Mamba. That's who he was. He wanted to be the best at what he did. It meant a whole lot to him to be great… He was younger than me, but I actually looked up to him and his greatness."
ADVERTISEMENT
Article continues below this ad
Allen Iverson wearing a T-shirt of Kobe holding the trophy after beating him in the Finals is one of greatest signs of respect I've ever seen. Real recognize real #Ko8e24 #LakeShow #Lakers pic.twitter.com/56YW2cKKca

— Markese Freeman (@KESE_86) December 19, 2017
Kobe and Iverson were two very different people, but their love for the game brought them together, and they had an incredible amount of respect for each other.
ADVERTISEMENT
Article continues below this ad