Andre Iguodala Reveals How a Golfing Trip Was the Key For Warriors to Win 2015 NBA Title
Published 01/22/2021, 5:59 AM EST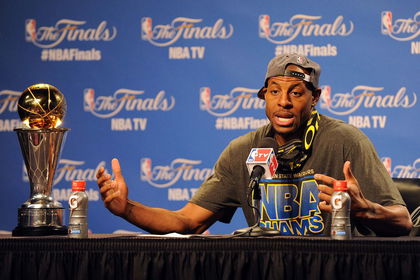 ---
---
Before Kevin Durant joined the Golden State Warriors, they won a title without him in 2015. They were led by MVP Stephen Curry, Klay Thompson, and Draymond Green as they overcame LeBron James and the Cavaliers in the Finals. But before reaching the Finals, they were close to being sent home in the second round.
ADVERTISEMENT
Article continues below this ad
Miami Heat veteran and member of that Warriors team, Andre Iguodala, recently spoke about that incident and revealed the 'unorthodox' way they overcame the Grizzlies after being 2-1 down.
He said, "We were down 2-1 to Memphis. We were like, 'this might be it' because Memphis was like a dry house. All those defensive player of the year, Zebo, that whole squad, Mike Conley, Tony Allen, and they were threats. We were down 2-1 going into Game 4 on the road, like do or die. And we went to the golf course after we lost."
ADVERTISEMENT
Article continues below this ad
Former Warriors star Iguodala says solutions don't have to be stressful
Going to a golf course during the playoffs sounds unconventional. But going there when your team is close to being eliminated in the playoffs sounds crazier. But Iguodala said that it helped them to relax.
"Most people would have been like 'y'all crazy'!" Iguodala said. "We went to the golf course and had the most relaxing conversations about just life and the game. And what do we do? We won three straight games. That really helped us think about something in a different way. You can solve a problem, but it doesn't always have to be stressful."
ADVERTISEMENT
Article continues below this ad
And this strategy worked. In Game 4 of their Western Conference Semifinals, the Warriors thrashed the Grizzlies 101-84 to go level in the series. They crushed the Grizzlies once again in Game 5, winning 98-78. The Warriors took the lead in the series and entered Game 6 with the confidence to put them away.
They won their third straight game, as the Warriors beat the Grizzlies 108-95 to advance to the Conference Finals. It was the first time they advanced to this stage since 1976. They continued this form in the next rounds as well, beating James Harden and the Rockets, and LeBron and the Cavs to win their first title since 1975.
It was a historic run, and it wouldn't have taken place, had it not been for that golfing trip.
ADVERTISEMENT
Article continues below this ad