'Beat The Living Sh*t Out Of Me': Raptors' Kyle Lowry Revisits His First Encounter with Kobe Bryant
Published 01/20/2021, 11:30 AM EST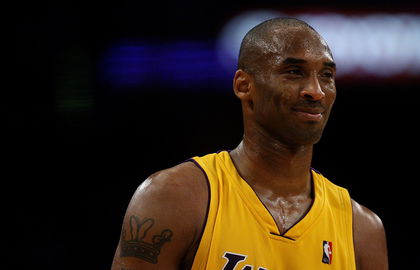 ---
---
Los Angeles Lakers legend Kobe Bryant left his mark in the NBA after a glorious two-decade career. Even though he isn't here with us now, NBA players cannot stop reminiscing about their best memories with him. Recently, Toronto Raptors star Kyle Lowry shared a story of his first encounter with Kobe in the NBA.
ADVERTISEMENT
Article continues below this ad
He said, "I think I'm a pretty physical defender, and I (was) a young pup. And I can tell you he beat the living shit out of me without even having the ball. But that is just how he played the game.
"He was way more physical on offense than defense. That was his thing. He would beat you up before you even got the ball. He was going to get to his spot, he was going to throw elbows, he was going to push you off, and run through you however it took. The referees were like, 'I don't see nothing.'
ADVERTISEMENT
Article continues below this ad
"But that was just his game. There'll never be another guy like that."
Kobe Bryant: Always intense
While the league has often been branded 'soft' recently, Kobe came into the league when it was tougher and more physical. And when you are one of the best players in the league, you are bound to attract more physical contact. So this is what molded Kobe's play of style, as Lowry described.
ADVERTISEMENT
Article continues below this ad
Lowry pointed out how intense Kobe was on the offensive end, but he had the same intensity on defense too. He is considered one of the greatest scorers of all-time, but he is also a 12-time All-Defensive team member. Right from his young days to his last seasons with the Lakers, he never lost his intensity and gave the opposition a tough time.
This intensity is what helped Kobe to win five titles with the Lakers. Partnering with Shaquille O'Neal for his first three rings, their duo dominated the league during that three-peat. Later he showed that he can without Shaq too, when he won back-to-back titles in 2009 and 2010.
ADVERTISEMENT
Article continues below this ad
As his death anniversary creeps up, players and fans across the league will be preparing for an emotional rollercoaster.