'It's a Blessing': Bradley Beal Overjoyed Finally Teaming Up With Childhood Friend Jayson Tatum
Published 03/04/2021, 10:43 PM EST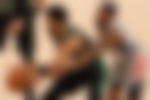 ---
---
Teaming up with friends is always fun, but some players never get that opportunity. After 4 years in the league together, childhood friends Bradley Beal and Jayson Tatum only just got the chance to sport the same colors.
ADVERTISEMENT
Article continues below this ad
As LeBron James and Kevin Durant picked their teams for the All-Star game, KD drafted both Tatum and Beal. The two of them grew up in St. Louis, Missouri, and went to the same high school as well.
They also shared the same trainer for a few years. This led to a strong bond between them, and for the first time, they can team up now. After the Wizards' win over the Clippers, Beal was asked about his thoughts on the team-up.
ADVERTISEMENT
Article continues below this ad
"It's a blessing, man," he said. "We never ever in my life been on the same team. We've always played one on one and competed against each other.
"So for us to share the floor for the first time in our lives and in the all-star game together, that speaks volumes. I'm just happy for his growth and I'm proud to share the floor with him."
.@RealDealBeal23 is so proud to be able to share the floor with fellow St. Louis native @jaytatum0 at #NBAAllStar ❤️ pic.twitter.com/HnTURFAoUz

— ESPN (@espn) March 5, 2021
From babysitting him to playing alongside him
Beal is like an older brother to Tatum. They have been friends for over a decade. But the first time they met each other was when the 5/6-year-old Beal was babysitting a toddler, Tatum. Beal's mother knew Tatum's mother because of their shared passion for volleyball, and that relationship is what paved the way for their friendship.
The Wizards star also helped Tatum get in contact with his own trainer when he was playing for the Gators. Tatum was still in school so his trainer, Drew Hanlen, was hesitant.
But after Beal called up him and asked him to do it, he agreed. So as a high-schooler Tatum grew up playing alongside college prospects like Andrew Wiggins, Zach LaVine, and Kelly Oubre.
Can Bradley Beal and Jayson Tatum get the win for Team Durant?
Their long-awaited dream of teaming up has finally materialized, but will this partnership help Team Durant win? It will be tough considering Team LeBron looks better on paper.
Team LeBron and Team Durant are set.

Who you got 👀 pic.twitter.com/mw3nykmji0

— Bleacher Report (@BleacherReport) March 5, 2021
ADVERTISEMENT
Article continues below this ad
But when Beal is determined, he can take down the best of defenses. Similarly, Tatum has also evolved into one of the most dangerous players in the league.
The odds will be against them, but Beal and Tatum will do their best to get the win for Team Durant.
ADVERTISEMENT
Article continues below this ad