Nets' Recent Record Is Proving James Harden Is Their Best Player; Not Kevin Durant or Kyrie Irving
Published 05/05/2021, 12:53 AM EDT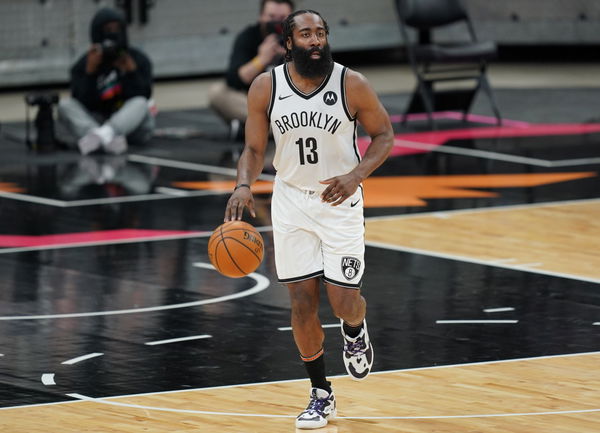 ---
---
The Brooklyn Nets are the number one team in the Eastern Conference. But that position could be in danger, following back-to-back losses against the Milwaukee Bucks, their closest challengers. Although they had both Kevin Durant and Kyrie Irving for the game, the absence of James Harden was felt heavily.
ADVERTISEMENT
Article continues below this ad
The Nets kept it close in both games, but ultimately, their poor performance in the clutch let them down. Since Harden arrived, the Nets have now played 19 games without him, and are just 9-10 in those games. When he plays, the Nets are 27-7. That stark difference is telling.
ADVERTISEMENT
Article continues below this ad
Against the Bucks tonight, Durant struggled in the fourth quarter. Although he had a great game overall, that performance in the clutch cost them the game. Over the season, Harden has proved to be crucial in the late stages for the Nets, and had he been playing, it could have been a different result.
Implications of the trade
When the Nets traded for the Beard, they had to give up a lot. Aside from the picks, they had to give up five players too. Two first-team guys in Caris LeVert and Jarrett Allen, along with a solid rotational player in Taurean Prince and a young Rodions Kurucs, had to be let go off. They sacrificed a lot of depth to bring Harden in.
Sources: Full current trade:

Rockets: Victor Oladipo, Dante Exum, Rodions Kurucs, 3 BKN first-rounders (22, 24, 26), 1 MIL first (22, unprotected), 4 BKN 1st round swaps (21, 23, 25, 27)

Nets: James Harden

Pacers: Caris LeVert, 2nd-rounder

Cavs: Jarrett Allen, Taurean Prince

— Shams Charania (@ShamsCharania) January 13, 2021
When Harden doesn't play, not only are the Nets playing a man down but also without all of those players. Since his arrival, he has justified his price, but he has also proved how the Nets look exposed without him. They lost a lot of defense in that trade, but Harden's insane offense helped them to make up for it. If he doesn't play, they are often unable to cross that bridge.
Pre-James Harden struggles
ADVERTISEMENT
Article continues below this ad
It is also interesting to note that the Nets were just 7-6 before Harden arrived. So the duo of Durant and Irving, along with the depth they had, couldn't win games before and had losses to teams like the Hawks, Hornets, and the Grizzlies. Since Harden's arrival, they have looked like a whole new team. He has made the team better considerably. The Nets are the #1 favorites only because they brought in Harden.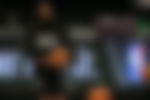 Many may say that Durant is the best player on the team, but it clearly looks like Harden is the one who keeps the team running. He is the Nets' most important player.
ADVERTISEMENT
Article continues below this ad