"Can't Look At The Negative Things": Lakers Kyle Kuzma Reflects On The Poor Form Of The Team
Published 08/07/2020, 9:13 AM EDT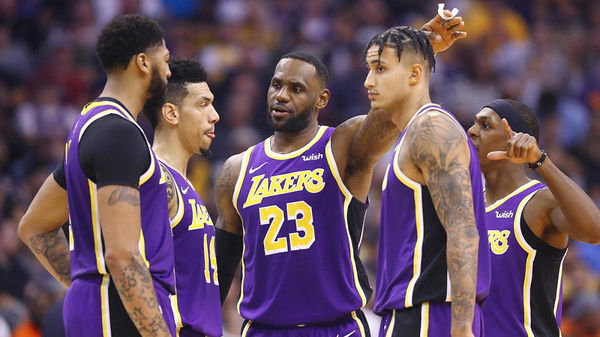 ---
---
The Los Angeles Lakers have been the worst shooting team of the bubble. They are around a pathetic 22% from the three-point line and are averaging the lowest team total too. None of the shooters in their squad have found success. But Kyle Kuzma has emerged as the only player to have some success with his shooting.
ADVERTISEMENT
Article continues below this ad
In the press conference post the loss to the Rockets, Kuzma talked about the shooting struggles of the team. When asked about his good form, he said, "I just put a lot of work in. I love the game of basketball. It's my passion and I love being in the gym and getting at work. That's just a product of it. A bit healthier but I've just had time to really put in the work. That's just my DNA. I'm naturally going to get better because of my hard work."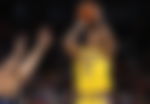 ADVERTISEMENT
Article continues below this ad
He will be satisfied with the results of his hard work. Prior to the season resuming in Orlando, Kuzma was shooting a poor 29% from three. But in the five games in the bubble so far, he has stepped up and is shooting a brilliant 46% from deep. What a turnaround it has been for him.
Los Angeles Lakers need to step up as a team
Later Kuzma was then asked about his team's bad shooting so far.
"You can't read the press clippings," he said. "Can't look at the negative things that are on Twitter. Just have to continue to put the work in and that's what our guys do. Especially for guys like DG (Danny Green) and KCP (Kentavious Caldwell-Pope). Especially KCP shooting really high this season. DGs going to come in and hit his shots when he needs to."
"It's all about getting that rhythm and confidence. Just letting it fly without conscience. It is a situation for us that we're not shooting the ball well. But we also know that we have proven commodities at that clip."
The four main shooters on the Lakers have been out of form. Danny Green is shooting 20%, Kentavious Caldwell-Pope is at 21%, Dion Waiters is at 13% and finally, JR Smith hasn't even made a single three-point yet.
For a team dubbed as the championship favorites, they cannot afford to do so poorly. They now have three more games to pull their socks up before they head into the playoffs. They next play the Indiana Pacers, who are currently 3-1 in the bubble. Coach Frank Vogel will certainly be scratching his head, as he tries to get his team out of their shooting slump.
ADVERTISEMENT
Article continues below this ad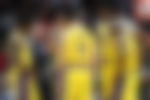 Sources:
Kyle Kuzma "can't believe my few eyes" Lakers lose to Rockets 113-97, Let's hurry back "King James"
ADVERTISEMENT
Article continues below this ad