Hall of Famer Picks Giannis Antetokounmpo Over LeBron James to Build an NBA Franchise
Published 01/01/2021, 12:48 PM CST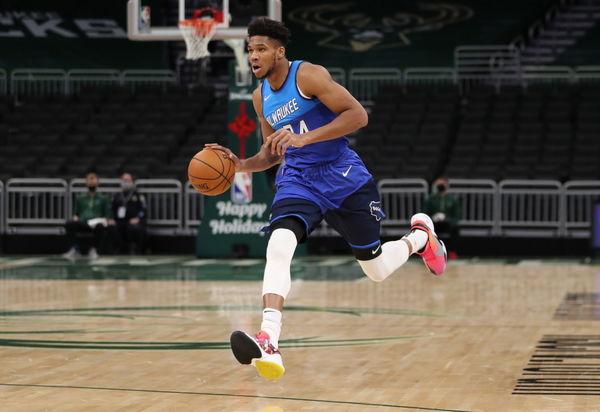 ---
---
Milwaukee Bucks star Giannis Antetokounmpo is one of the best players in the league right now. His back-to-back MVP awards are no joke, and just assert how dominant he has been in recent years. So it is not a surprise that, if given the option, one would want to start a franchise with him.
ADVERTISEMENT
Article continues below this ad
Hall of Famer Charles Barkley was asked this question, and his answer was Giannis over players like LeBron James. He said, "I'd probably go with Giannis (to start a franchise). He's a great kid. He's only like 26-27.
"I think his future is so bright. Obviously, he's gotta make some improvements. (The Bucks) gotta make some adjustments around him."
ADVERTISEMENT
Article continues below this ad
Barkley has always been vocal about his praise for Giannis. "What he's accomplished at this age is incredible," he said a few months back.
"He's such a great kid. Last year when we had him on the award show and he won MVP he was crying. Last night when we gave him the Defensive Player of the Year, he was emotional."
Is Giannis Antetokounmpo the best player to build a team around?
Along with Barkley, the majority of the NBA GMs also feel Giannis is the best player to build around. According to the survey, 43% of the GMs voted for him. It is not surprising looking at the qualities he brings to the team.
ADVERTISEMENT
Article continues below this ad
Giannis was voted the best power forward but also received votes for being the best small forward and center. His versatility across those 3 positions is impressive, and he is able to dominate in each of those positions.
The Greek Freak is also one of the best two-way players in the league, and his MVP and DPOY season is a testament to that. This presence on both ends would be desirable for any coach and GM. His only weakness currently is his three-point shot, but the Bucks have done an excellent job this season to make up for it.
ADVERTISEMENT
Article continues below this ad
The Bucks were able to finally tie him down to an extension, and that is their biggest move this season. Giannis is still only 26 now. So in the upcoming seasons, the Bucks will always be among the contenders.